Welcome to the cosmos according to Nathan Breedlove. Love..love…
---
---
---
---
Nathan Breedlove and the Last of the Tribe – featuring Booker T Williams, Gary Hammon, Michael Barnett and Jamael Nance.
Live at the Royal Room Sept 27th.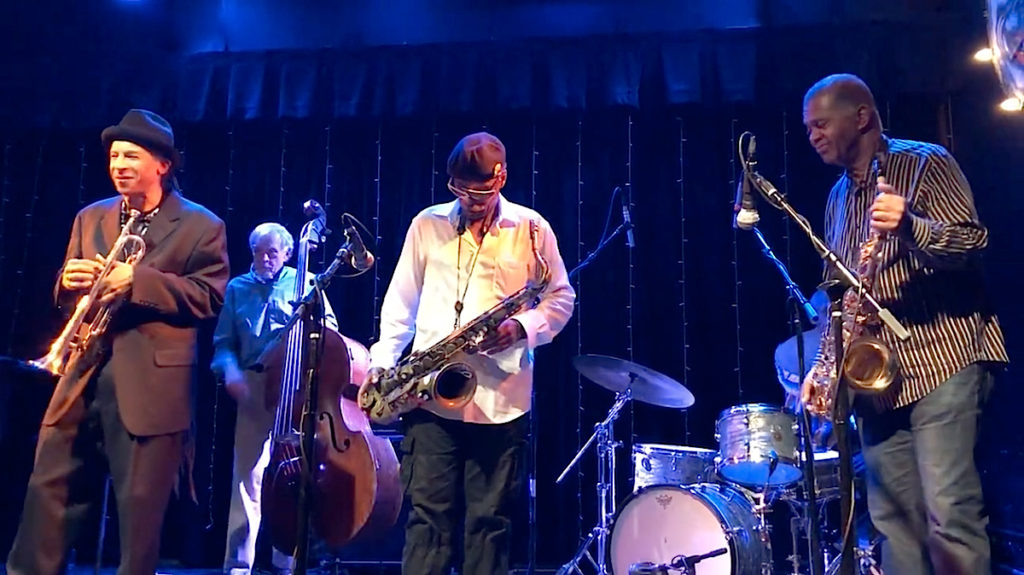 Click on picture for video.
video © Joyce Glasgow 2018
---
https://twitter.com/NateBreedlove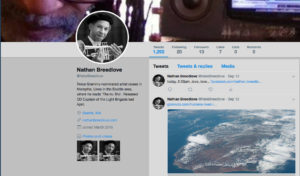 ---
---
---
---
https://southseattleemerald.com/2018/08/11/the-nu-trio-pursues-the-unknown/
The nu Trio Pursues The Unknown
by Gus Marshall
---
https://stevegriggsmusic.blogspot.com/2016/08/nathan-breedlove-recluse-on-loose.html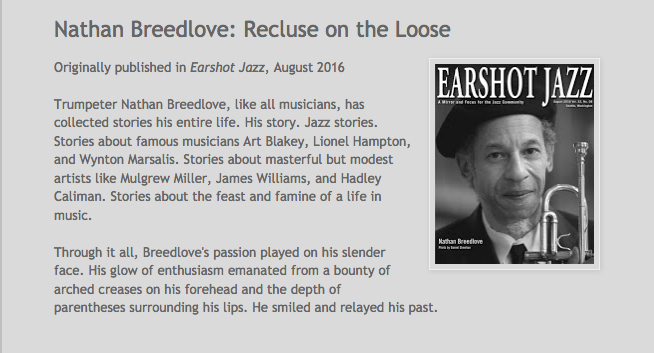 ---
https://www.facebook.com/events/1843825685657015/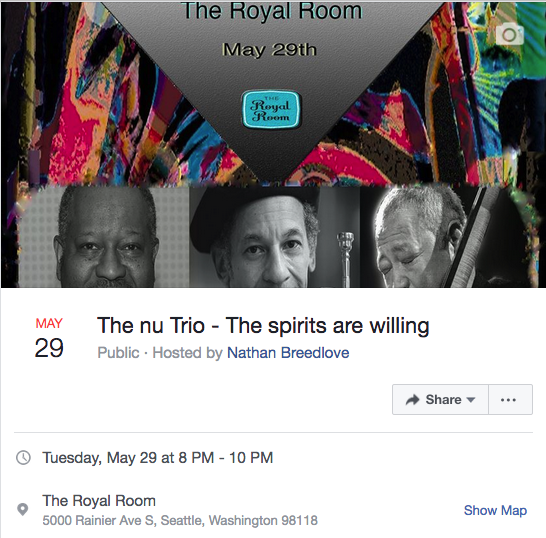 ---
Nathan's personal page at the Grammy site. Nov. 17, 2017.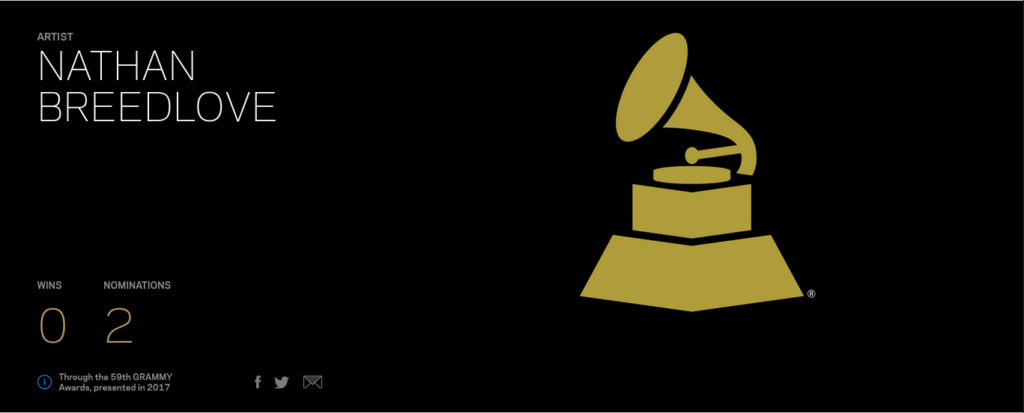 https://www.grammy.com/grammys/artists/nathan-breedlove
---
Nathan, Jamael Nance and Jemeel Moondoc,  live at the Royal Room for the Earshot Jazz Festival on Oct 12th. New York lower east side comes to Seattle. The concert was amazing, filled with cosmic energy and creative, original improvisation at the highest level. Bravo Seattle!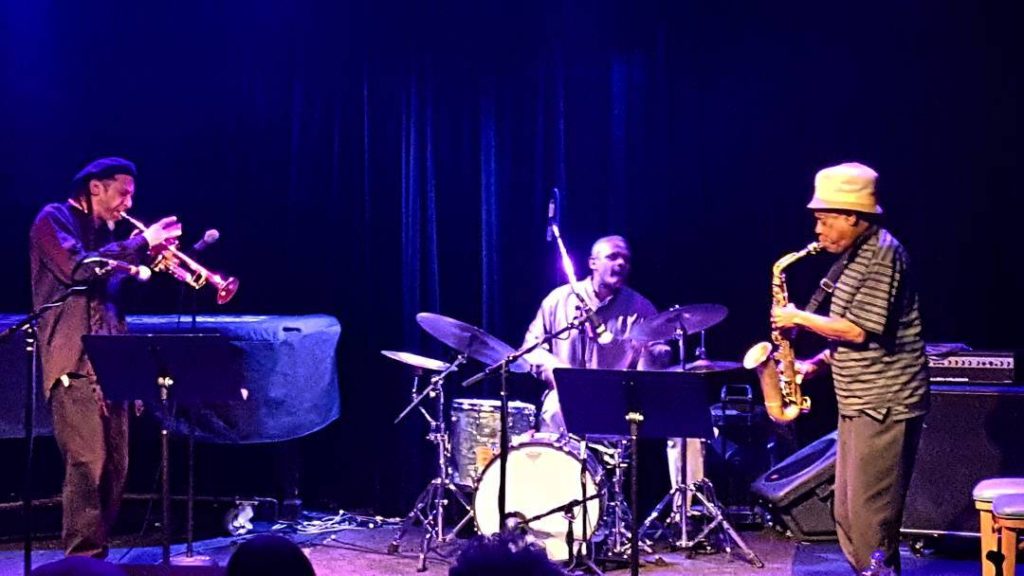 ---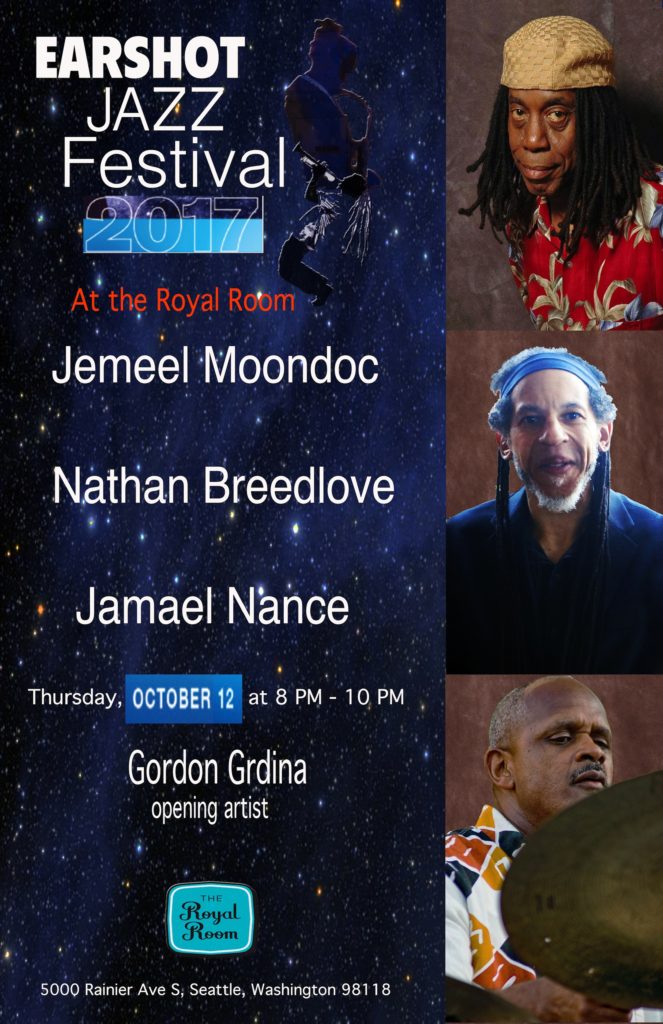 ---
---
https://www.youtube.com/watch?v=j7fVuFVURnQ&spfreload=10
---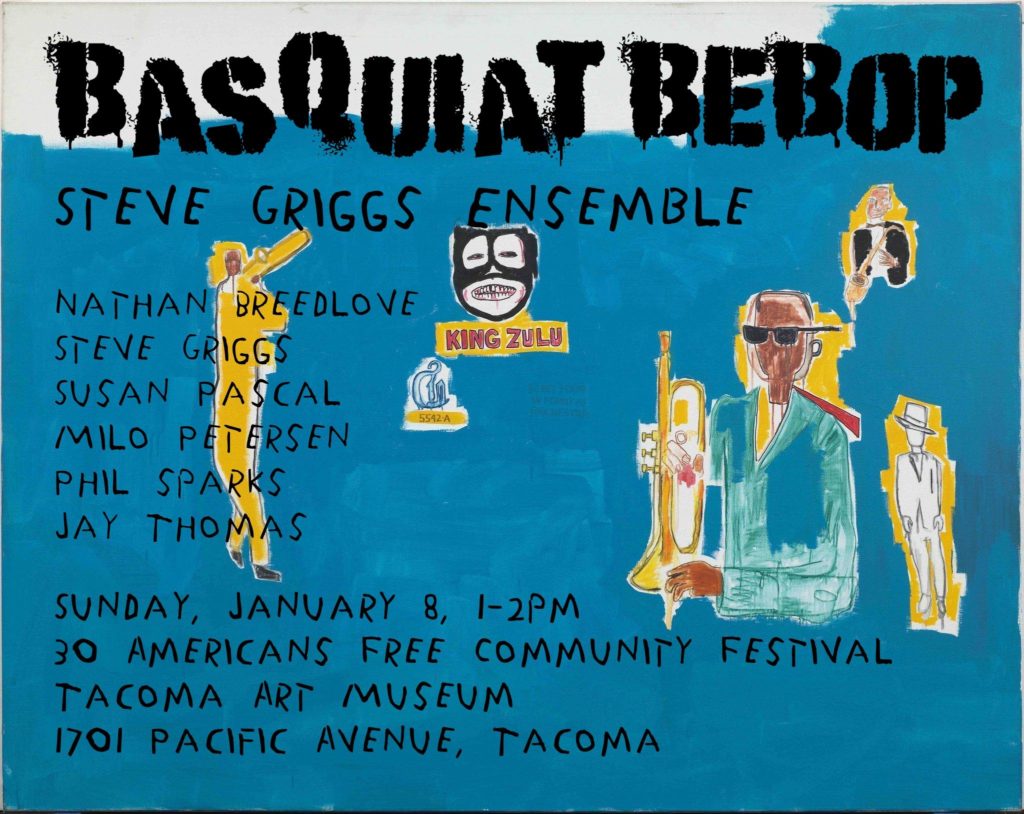 Today's concert at the Tacoma Art Museum was absolutely marvelous. Bravo to the Tacoma audience..well attended and folks paid very close attention..beautiful..The band under the direction of Steve Griggs was swinging! Steve, Jay Thomas, Susan Pascal, Phil Sparks, Christian Milo Peterson and yours truly..outstanding. The story Steve is relating refers to Charlie Parker's first tour down south, in a town where black folks were not supposed to be on the streets after dark(black codes/i.e. the law). Bird, Diz and the others were staying at a private home, hanging out on the porch when the police showed up to harass, harangue and denigrate the worlds greatest artist's..only in America..love..love.
---
---
Nathan Breedlove's 2016 Adventures in NYC.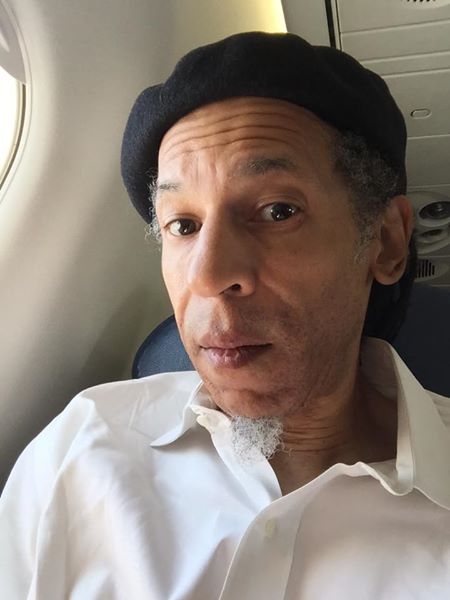 Wedsnesday June 22nd 2016 – on the plane, back to Seattle from NYC.
Tuesday June 21st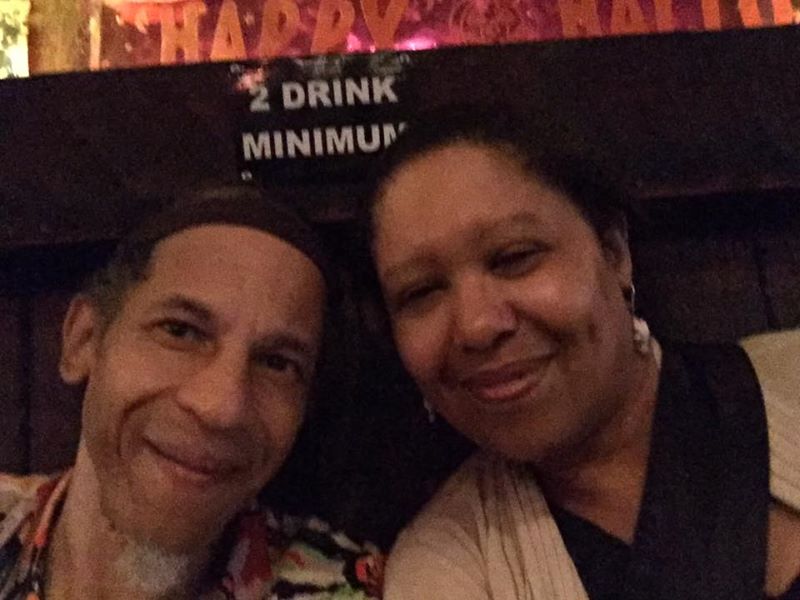 Nathan with his close and dear friend/sister Terri Kerni..Art and Evelyn Blakey lives!! That is how these two became family.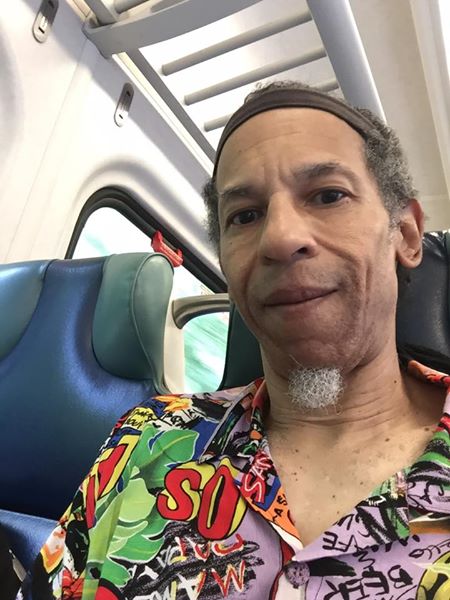 Thursday, June 12, 2014 at 11:50pm PDT – on the LIRR.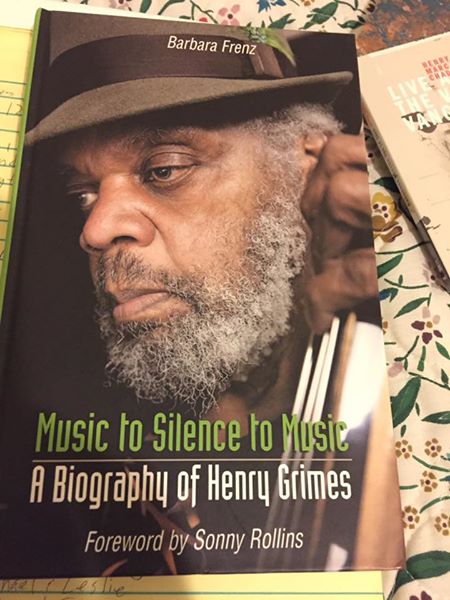 Nathan Breedlove – Henry Grimes and I had some wonderful conversations
last night, like when he told me about Clifford Brown recommending him for
gigs when he was still under age. It's all in the book. Buy one..the read of the
year..love..love…
Sunday, June 19, 2016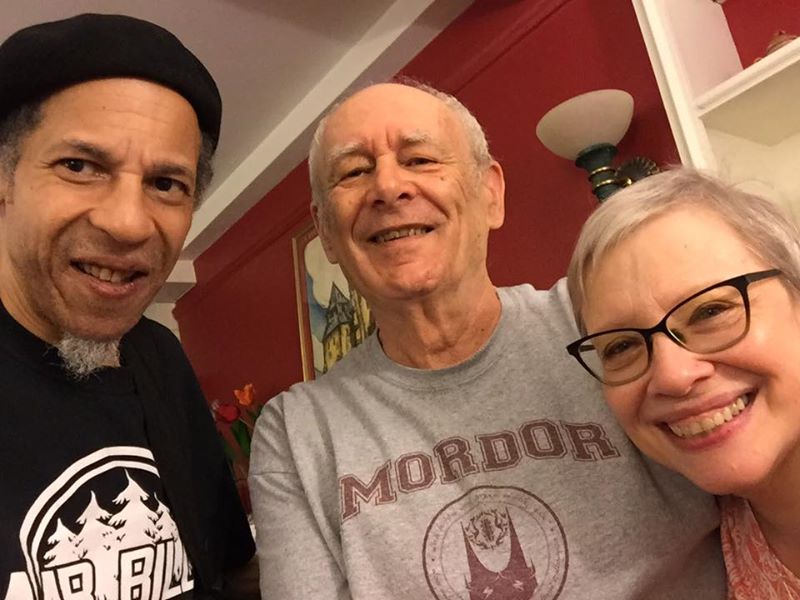 With my good friends Leslie Morrison Faerstein and Michael Whitcomb. Love these guys. We had a blast together
and really look forward to our next dinner.
>Leslie Morrison Faerstein – Nathan – it was a pure joy spending the evening with you and I look forward to many more
evenings! Michael Whitcomb and I send you much love.
---
Nathan Breedlove's June 17th birthday bash, thrown by his sis Gabriela Sonam
niece Doper Jones
.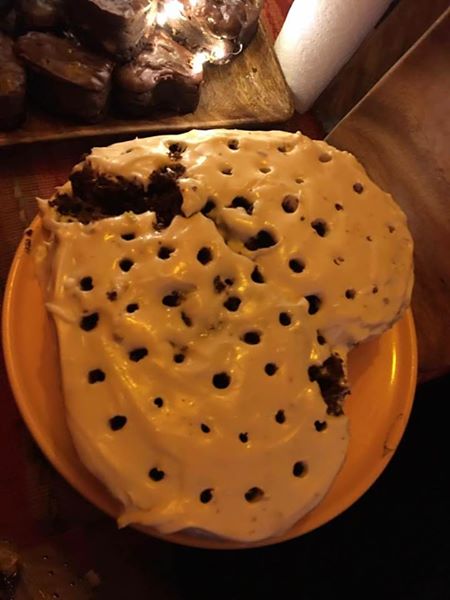 Friday, June 17th – The birthday cake remnants.
>Thelma White – Wow! That is really artistic!!
Saturday, June 18, 2016 at 3:25pm PDT
>Will Ruiz – Happy Birthday Nathan
Saturday, June 18, 2016 at 3:50pm PDT
>Glen Page – 60 candles will do that to a cake! Happy BD!
Saturday, June 18, 2016 at 5:59pm PDT
Ted Sharpe – All right bro, it's time to get the number candles for the next one! You fixin to burn the neighborhood down! ?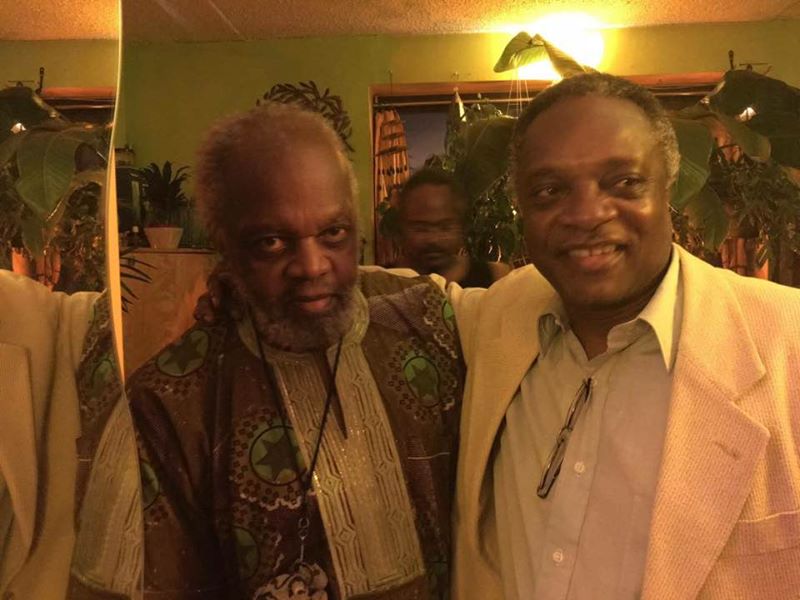 Nathan's party at Gabriela's. Henry Grimes, James Zollar and Ras Moshe Burnett in the background.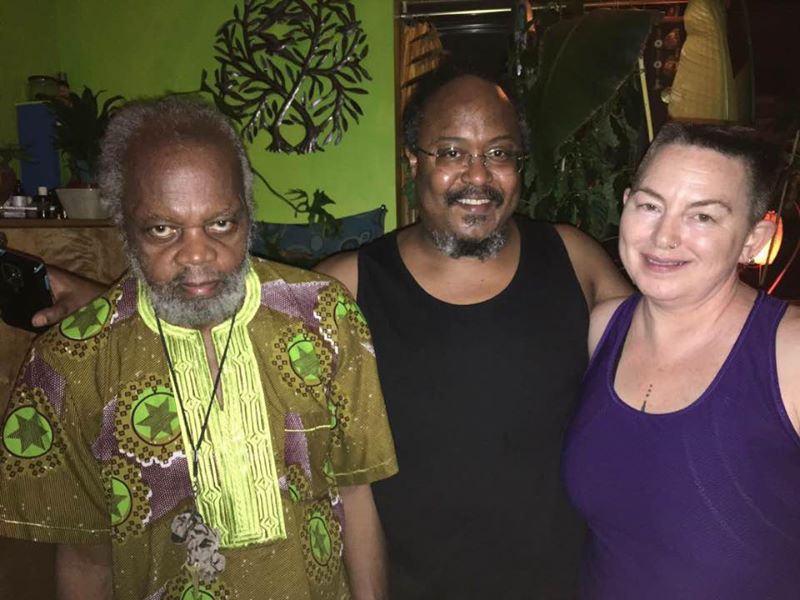 Henry Grimes, Ras Moshe Burnett and Gabriela Sonam.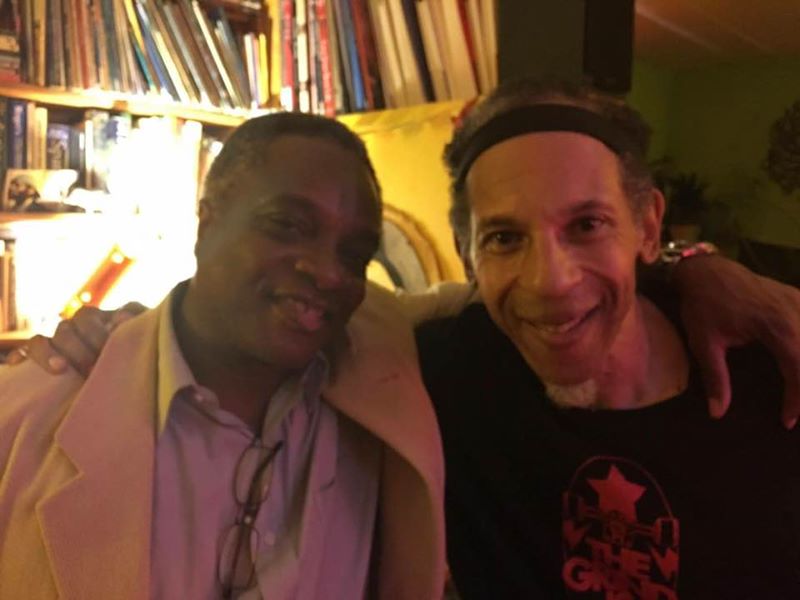 James Zollar and Nathan Breedlove. James is the very first cat Nathan met on his first real trip to NYC
in 1985. James is the longtime trumpeter for the Duke Ellington band for decades, the Basie Band..
Friday, June 17th 2016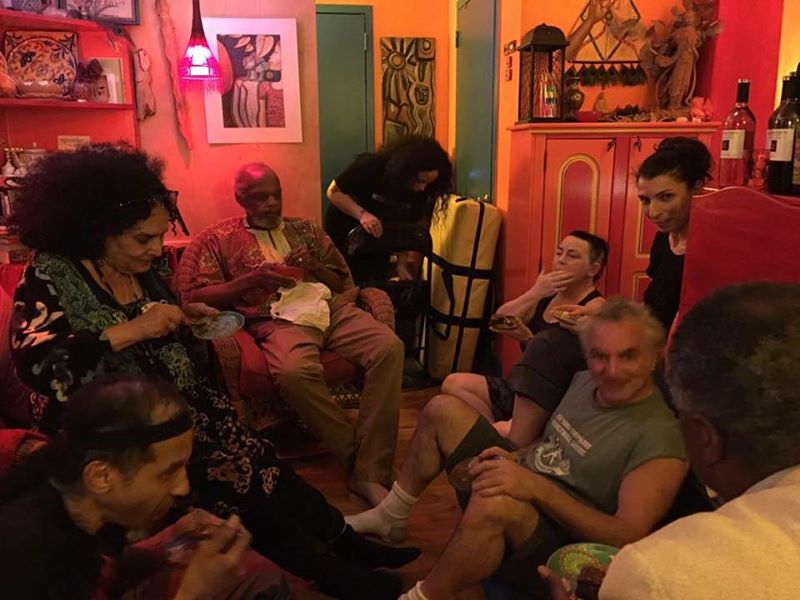 Nathan, Margaret Grimes, Henry Grimes, Doper Jones, Gabriela Sonam, Avram Fefer and his wife,
James Zollar and his wife Nabuko Jazz.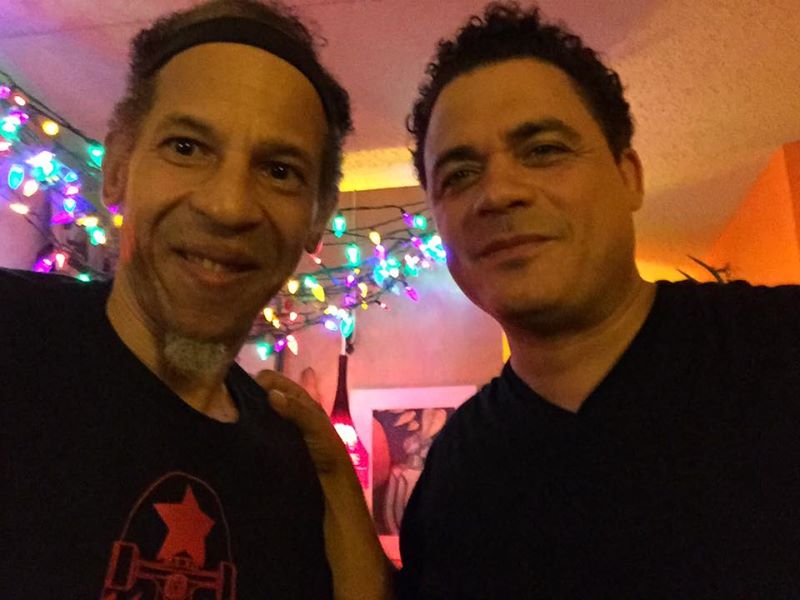 Nathan Breedlove and Clark Gayton. Old bandmates and closest of friends.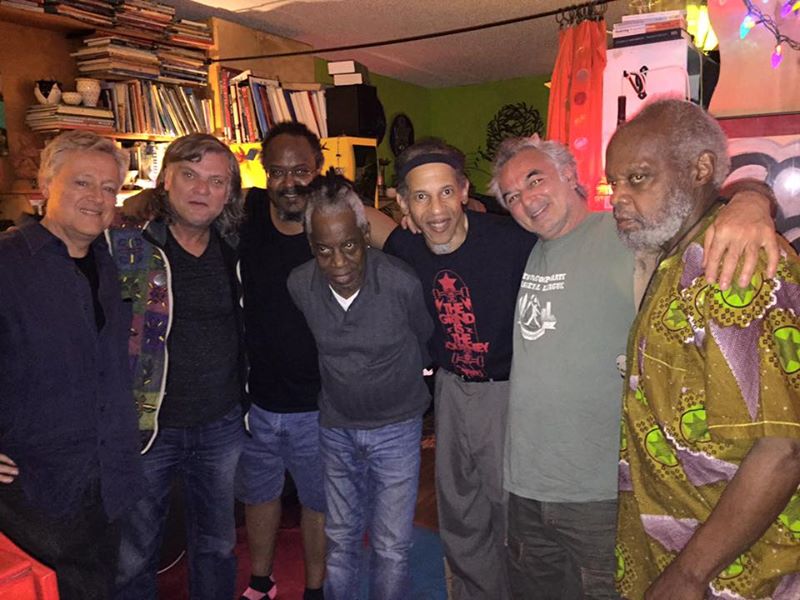 Rick MacLaine, Charles Xavier, Ras Moshe Burnett, Jemeel Moondoc, Nathan, Avram Fefer and Henry Grimes.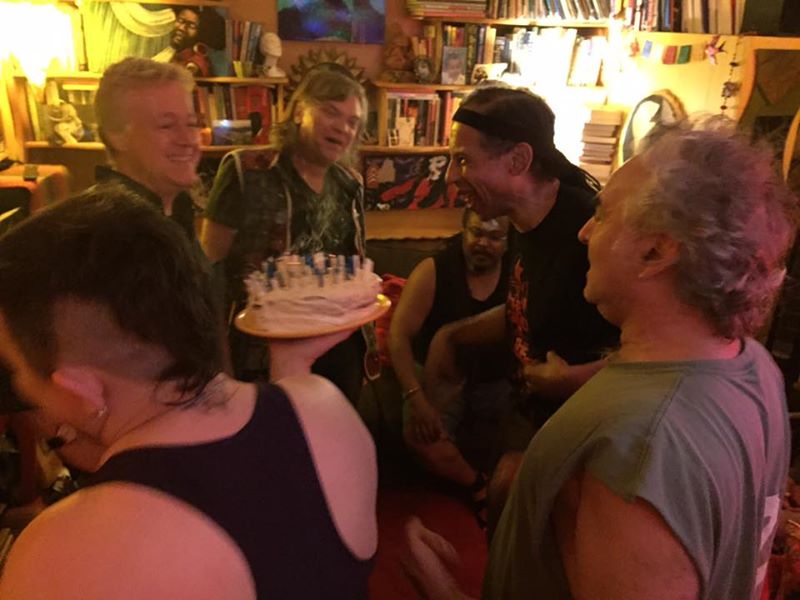 https://www.facebook.com/nathan.breedlove/videos/10154412370790039/
---
The birthday cake!
Saturday, June 18, 2016 at 3:13am PDT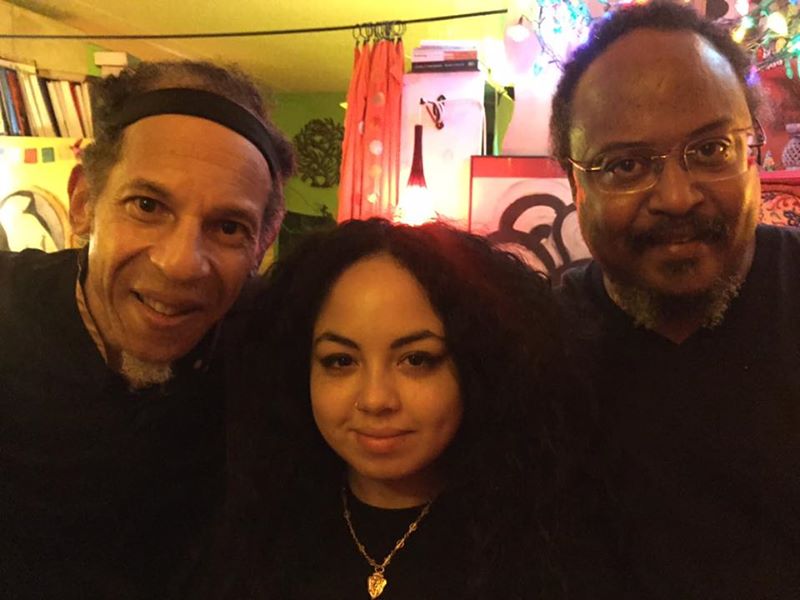 Nathan with niece Arkah and Ras Moshe Burnett – saxophonist extraordinaire and keeper of the flame.
>Gabriela Sonam – 3 of my favorite people on planet earth!!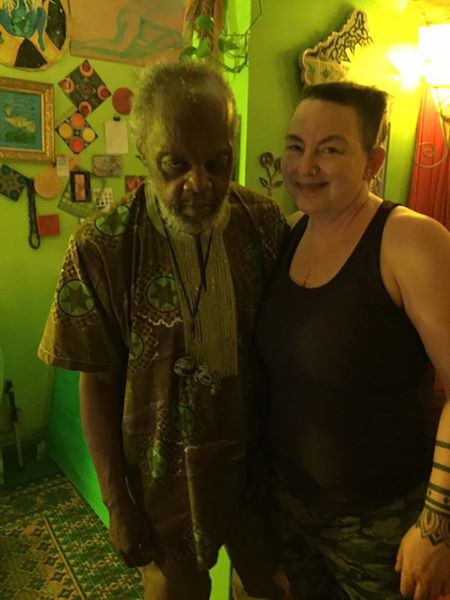 Henry Grimes and Gabriela Sonam.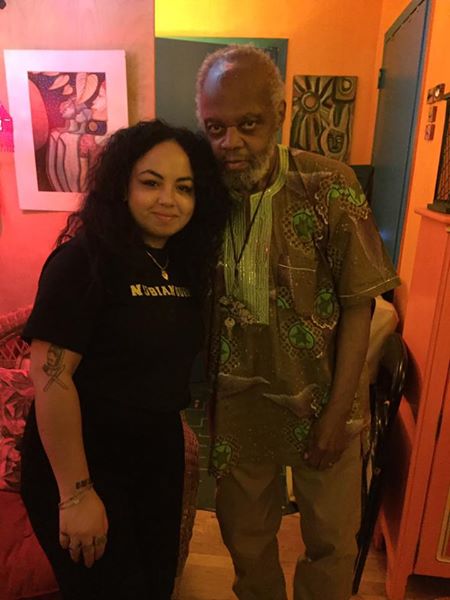 Doper Jones and legendary bassist Henry Grimes. Doper is the
daughter of Denis Charles the legendary drummer and Nathan's
close friend.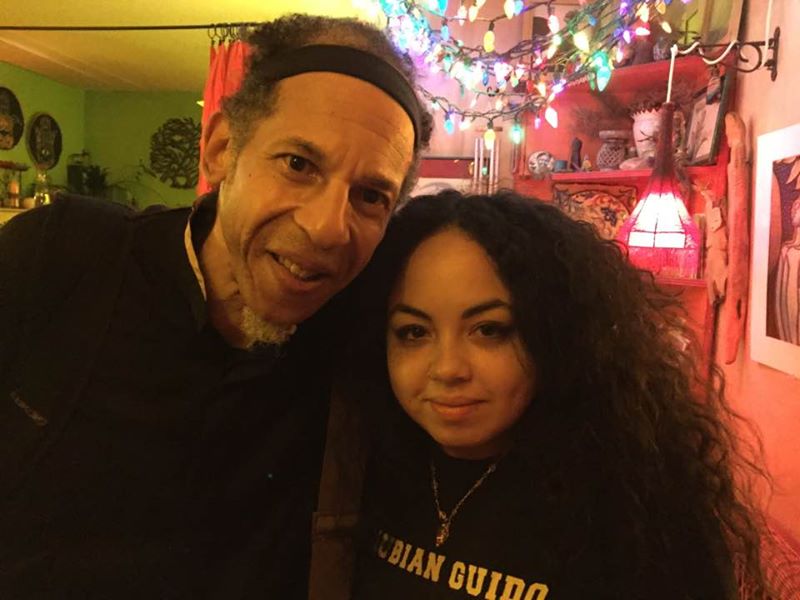 Nathan and Doper Jones. Family..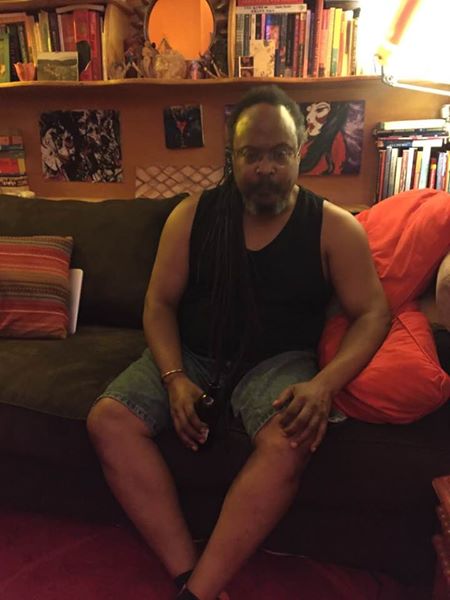 Ras Moshe Burnett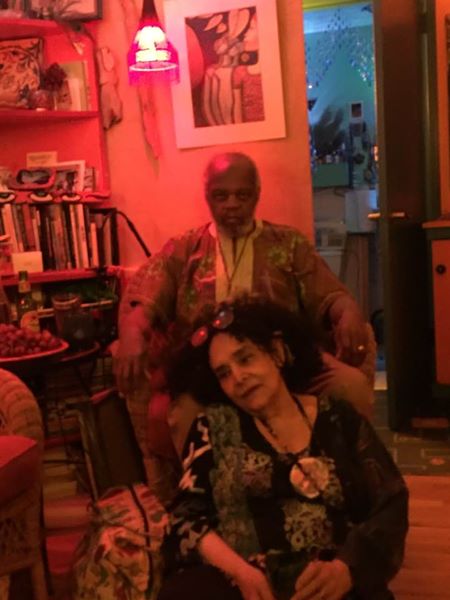 Henry and Margaret Grimes. Margaret and Nathan have
been close friends for over twenty years.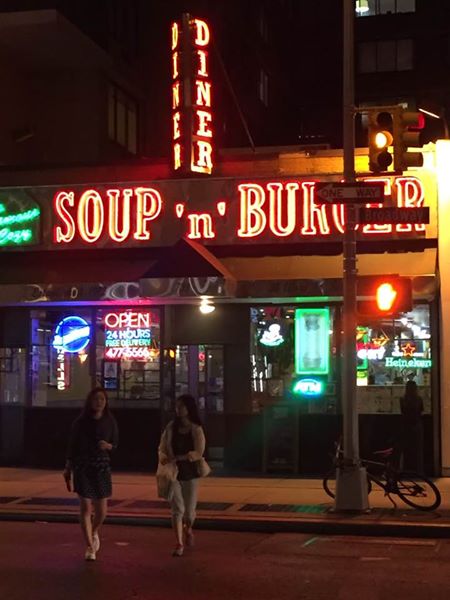 Sunday, June 12, 2016 at 11:50pm PDT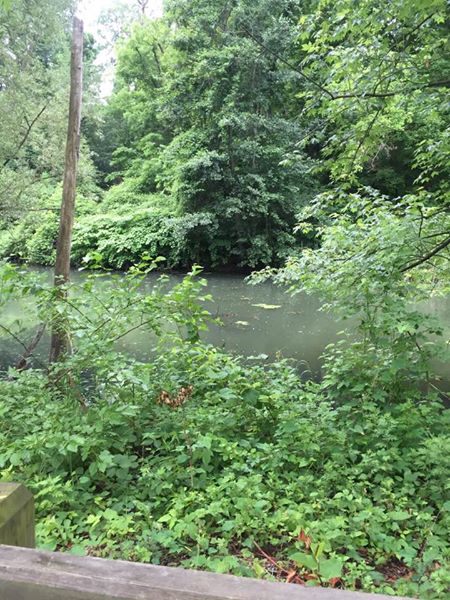 The walk path from family friends, Paul and Jennifer Ransom
where Nathan stays when he is in New York.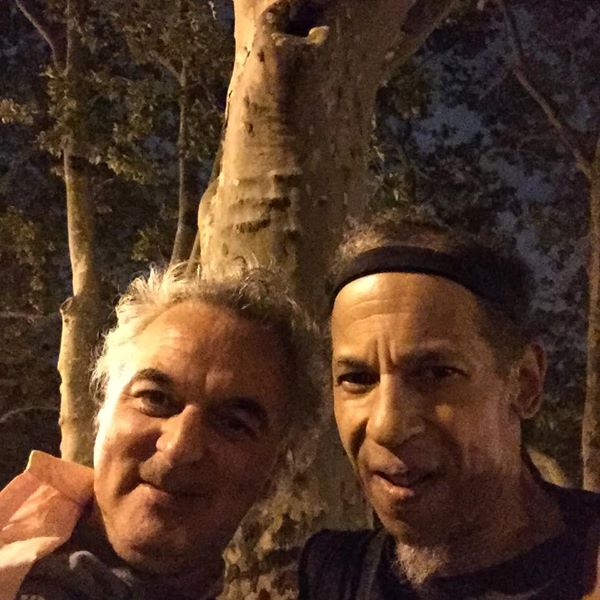 Nathan with Avram Fefer after playing together and hanging out in the park.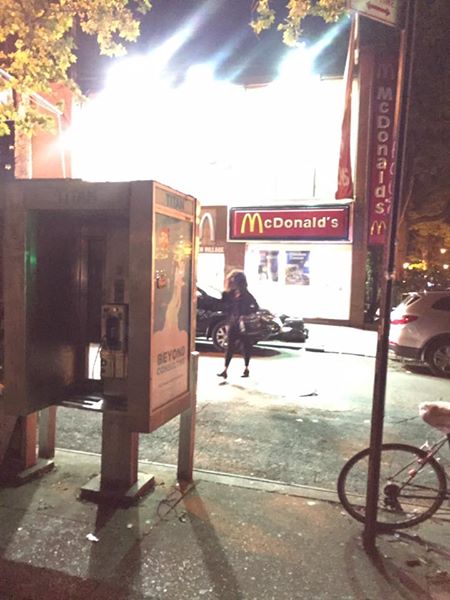 The actual phone booth where Nathan witnessed a mugging on his
very first trip to NYC in the mid-eighties. Right next to the Blue Note.
Friday, June 17, 2016 at 2:40am PDT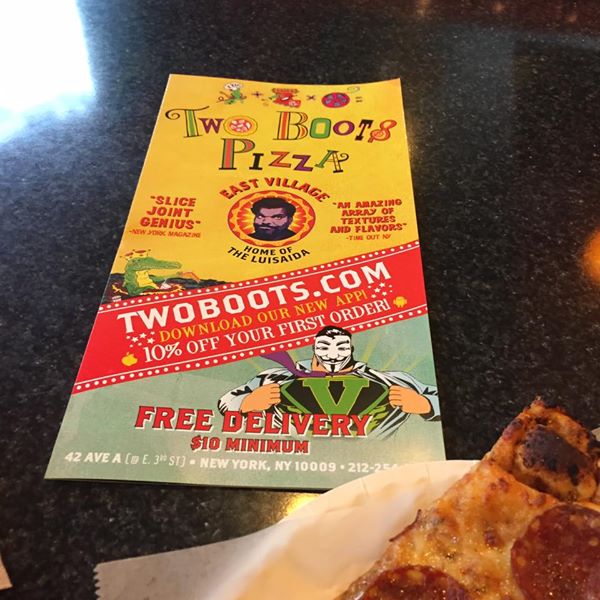 On the hunt for a slice of New York Pizza. Found it! Jemeel Moondoc introduced this place
to Nathan back in the early nineties.
>Charlie Dahan – Not a fan.
Thursday, June 16, 2016 at 3:09pm PDT
>Jim Coleman – I love two boots ! We have one nearby on the Upper West Side…
Thursday, June 16, 2016 at 3:32pm PDT
>Charles Tomaras – Is Ray's still a thing or has it's time past?
Thursday, June 16, 2016 at 3:41pm PDT
>David Weiss – It's started out being pretty good but has fallen off drastically over the years though
I must say I haven't had a slice there in years…..
Thursday, June 16, 2016 at 4:44pm PDT
>Richard Hilms – Ray's is still going in N.Y.C. Walt. don't know this place.
Thursday, June 16, 2016 at 5:01pm PDT
>Clark Gayton – there are about 4 or 5 in the city and brooklyn. The one on ave A is still the best
Thursday, June 16, 2016 at 5:12pm PDT
>Nathan Breedlove – it wasn't too bad, professor Munch..?
Thursday, June 16, 2016 at 8:54pm PDT
>Nathan Breedlove – Ray's is still here. I had a few bad slices there ages ago. Chewy indigestible
cheese and I never went back.
Thursday, June 16, 2016 at 9:14pm PDT
>Charles Tomaras – So I'm guessing you don't like Dominos.
Thursday, June 16, 2016 at 9:20pm PDT
>Paul Rauch – I believe there is a 2 boots pizza joint in Bridgeport CT as well, that has live jazz.
I saw my friend, guitarist Tony Purrone gig there
Thursday, June 16, 2016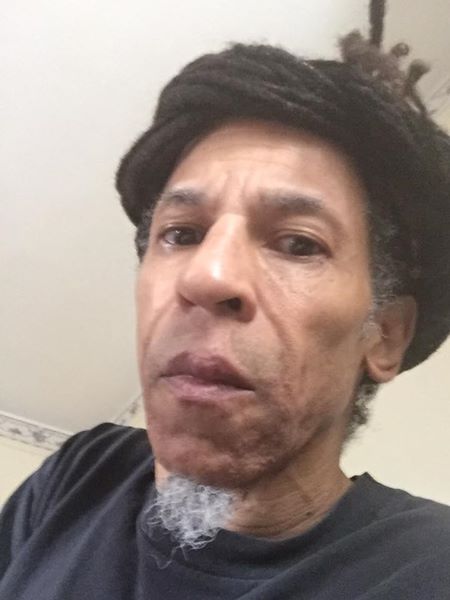 Nathan splits his chops..jumping up on bandstands without a proper
warm-up. No can do anymore.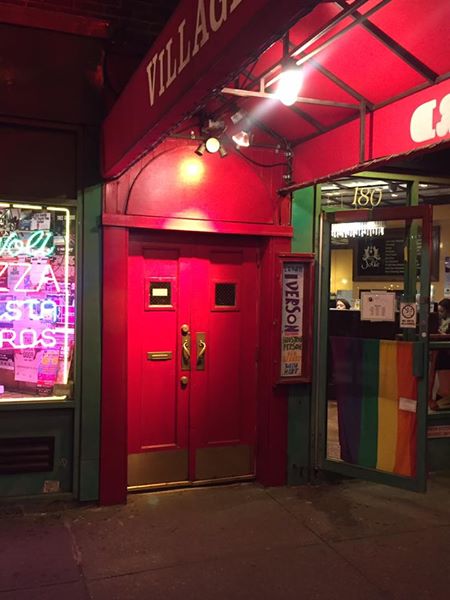 The Village Vanguard – where Nathan spent many a night. Played
there twice.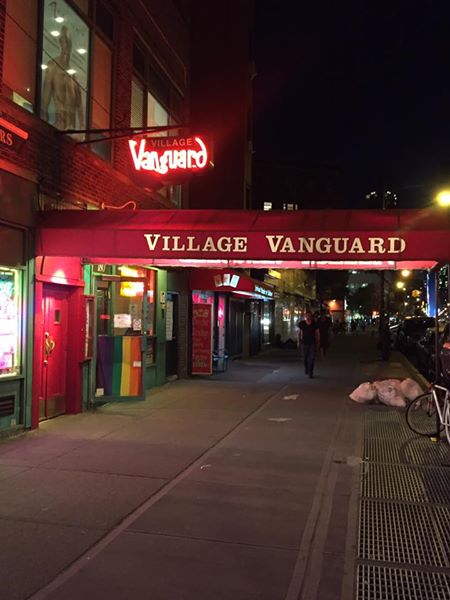 Jam session at Cleopatra's Needle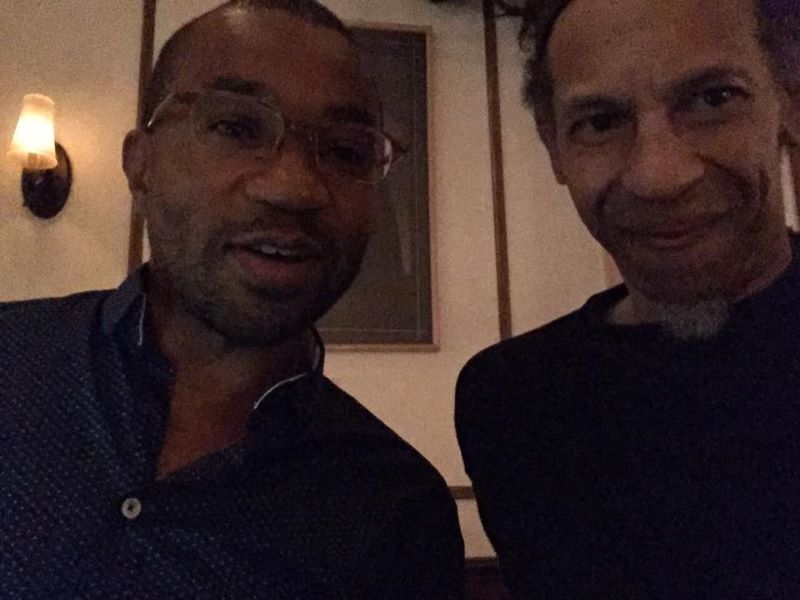 Nathan and Antoine Drye – a young trumpeter from New Orleans.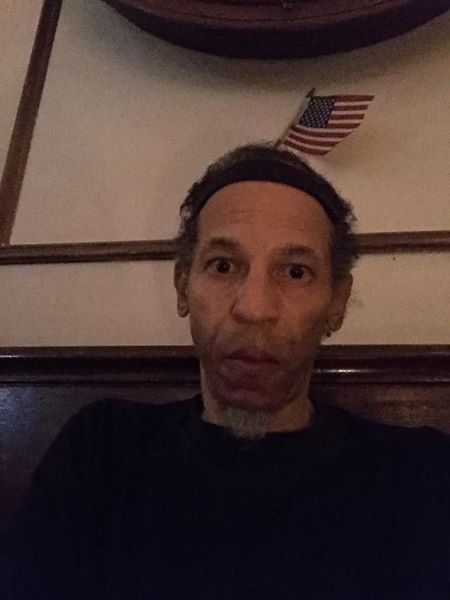 At the session…chilling with a busted lip. Nathan did play
a couple of tunes.
Tuesday, June 14, 2016 at 8:02pm PDT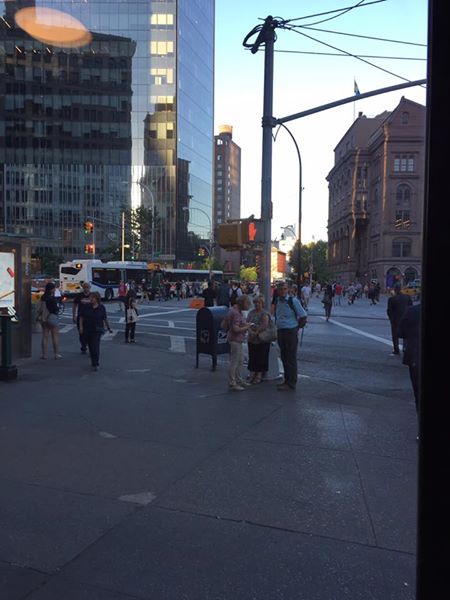 Nathan's old hangout spot. The Astor Place Starbucks..
>Nathan Breedlove – the place has changed so much in the past ten years.
Even though I was here a couple years ago I didn't have the time to absorb
it all..now I see…
Tuesday, June 14, 2016 at 4:44pm PDT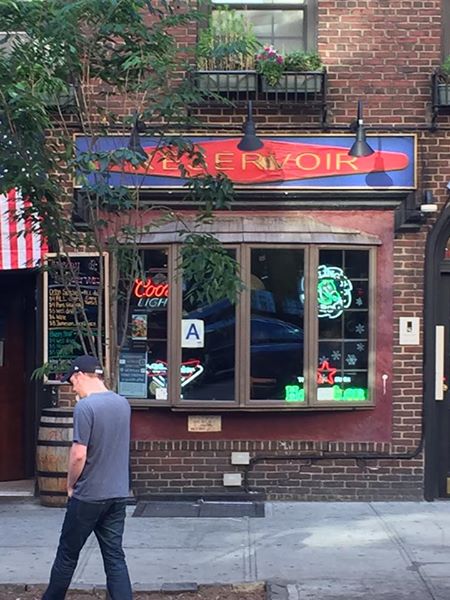 Where Bradley's the hippest jazz joint in the city used to be! Nathan
spent many a night in this place. Hanging and sitting-in with the legends.
>Nashira Priester!!!
Tuesday, June 14, 2016 at 4:07pm PDT
>Jack LongYou should write your memoirs, Nathan.
Tuesday, June 14, 2016 at 4:10pm PDT
>Nathan Breedlove I come and do a pilgrimage here on every trip but the club
has been gone for many years. I took Hadley by there just after it closed and
commiserated there together. As we were talking outside the club about the old
days one of Stan Getz' close friends interrupted and joined our lament session.
It was a special moment. I introduced Hadley to the spot and one night he sat in.
I was gigging that night and couldn't attend but I heard about it for weeks. The
second coming of Dexter, you dig..love..love…
Tuesday, June 14, 2016 at 4:14pm PDT
>Nathan Breedlove I have to wait on a couple more to make the transition first.
Buhaina's bodyguard/valet was my bedmate(feet to face) for 3 months after
Art passed away. He was his road manager in the 50's and 60's. Each day he
told me an
untold story..love..love…
Tuesday, June 14, 2016 at 4:18pm PDT
>Chuck Deardorf – Remember going there in '84 to see Kenny Barron and Buster
Williams; the bar was lined up with piano players – James Williams, John Hicks
all hanging and listening to Kenny…great joint.
Tuesday, June 14, 2016 at 4:18pm PDT
>Nathan Breedlove – those were the days. I was supposed to go see Barry Harris today.
I have a recording of me, Hadley and John Hicks from 1999 in the basement. It was
one of Hicks last recordings. Man I miss James. He was supposed to be on the
recording but Hicks called back first. The two cats I called first were Kenny Kirkland
(he had just died in the kitchen when I left the message) and Mulgrew. Hard to believe
they are all gone now.love..love…
Tuesday, June 14, 2016 at 4:25pm PDT
>Nashira Priester – That Kenny Kirkland collapse do you know what it was from?
Tuesday, June 14, 2016 at 5:32pm PDT
>Nathan Breedlove – Nashira Priester in truth no..but Kenny had a long history of
dealing with the demon white powder..When I first met him we were in our early
twenties. Our first hang was in a hotel room when he was with Wynton, we were
hanging and talking and he pulls out this little bitty early Casio keyboard with the
tiny keys. He gave it to me and said, play something..I played All God's Chillun
Got Rhythm at Bud's tempo. We became friends for life. He had the tendency even
then to be a recluse and only answered his phone to a few cats. He always answered
the few times I called him. When I was doing my record I ran into Tain(Jeff Watts)
at the Zinc Bar and told him I was looking for a piano player. He told me to please
call Kenny and I did. End of story. I loved Kenny and we really really enjoyed each
other's company..love..love…
Wednesday, June 15, 2016 at 12:23pm PDT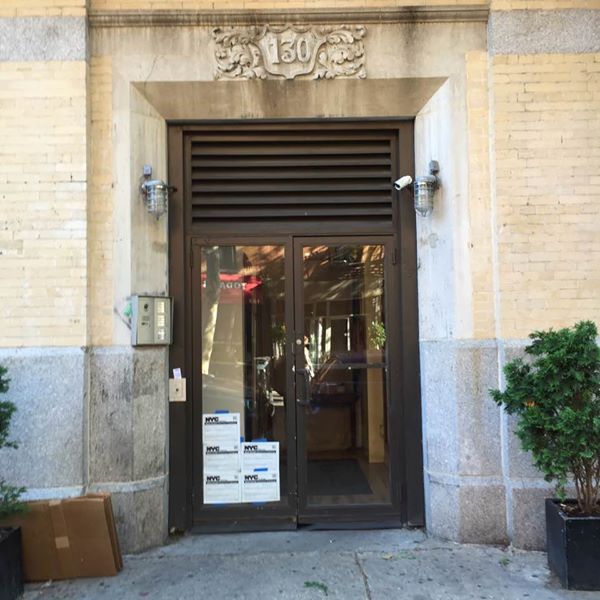 Former location of the University of the Streets. Nathan spent many nights in this place
starting in the eighties.
Wednesday, June 15, 2016 at 12:11pm PDT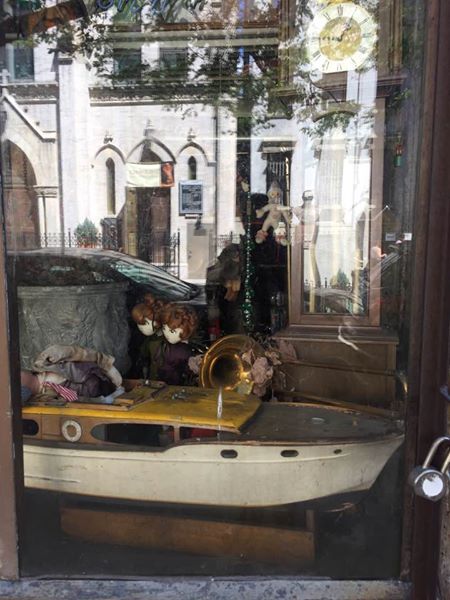 The only horn spotted after two days of hanging out in my old
neighborhood, the lower east side. Place used to be filled with musicians
and you couldn't walk down a street without hearing one practice. Not
anymore..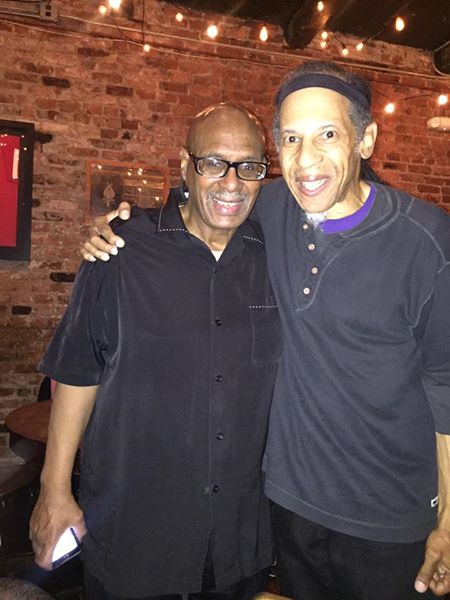 Nathan with an old partner and friend, pianist Richard Clements. Hanging buddies in
Paris and New York. They performed Ornithology together at the 11th Street Lounge.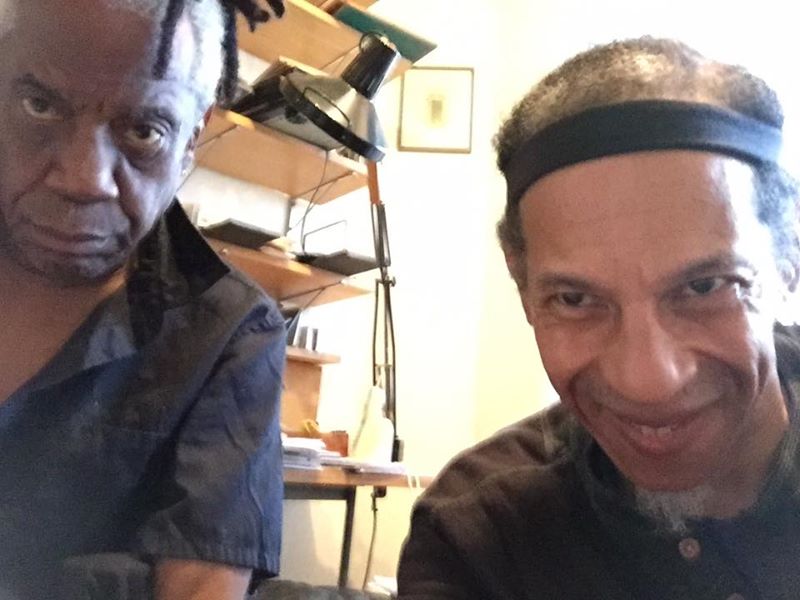 Nathan Breedlove and Jemeel Moondoc. Jemeel is a prolific composer and heir apparent to Ornette Coleman. The two of us have been partners playing together for 25 years.
Monday, June 13, 2016 at 7:37pm PDT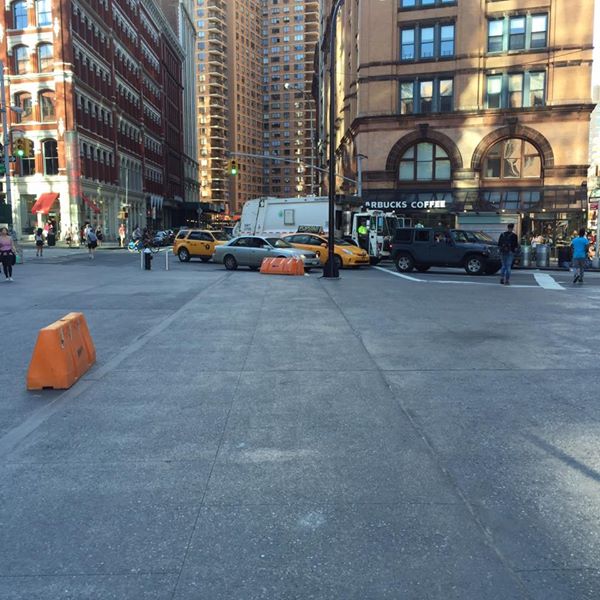 The Cube in Astor Place..is gone. No room for art..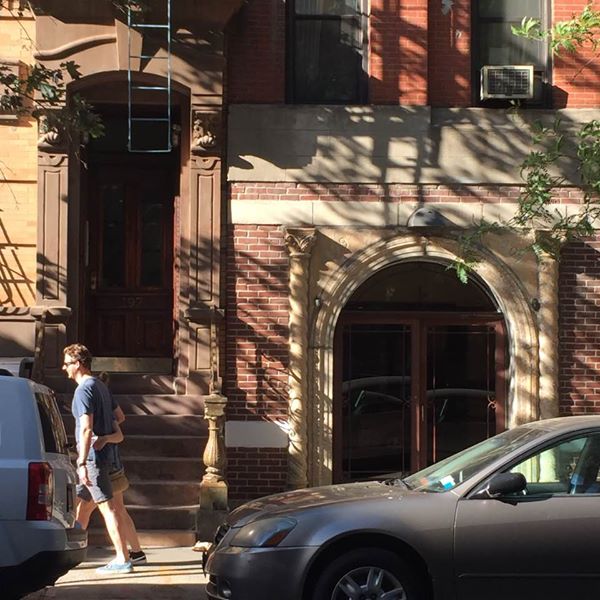 My old home away from home. I had a room here with Evelyn Blakey from summer 1989-1993.
>Gary Crooks – A picture to go with the stories I've heard (-:
Sunday, June 12, 2016 at 9:07pm PDT
>Nathan Breedlove – Hector the mob boss who controlled 7th Street lived on the first floor..saw
him everyday too. He got a triple life sentence.
Sunday, June 12, 2016 at 11:13pm PDT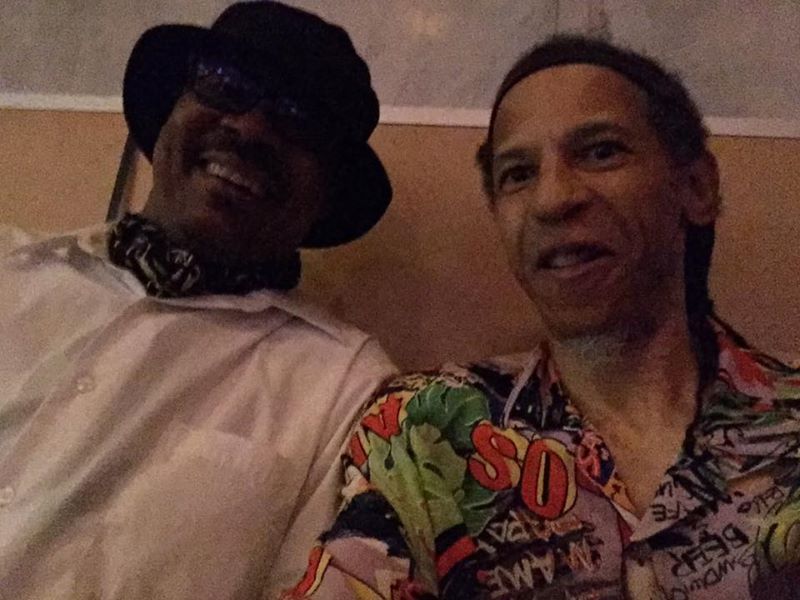 At the Vision Festival hanging with my friend Reggie Nicholson, one of Chicago's
baddest drummers. Haven't seen each other since we played together in Portugal, 2003.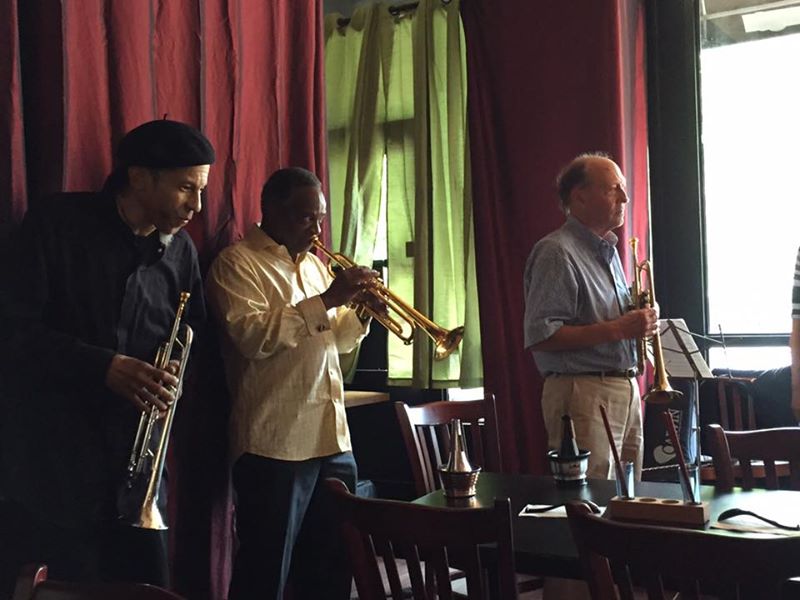 Nathan Breedlove with trumpeters James Zollar and Jim Coleman. Playing together with vocalist
Nabuko Jazz, in Harlem.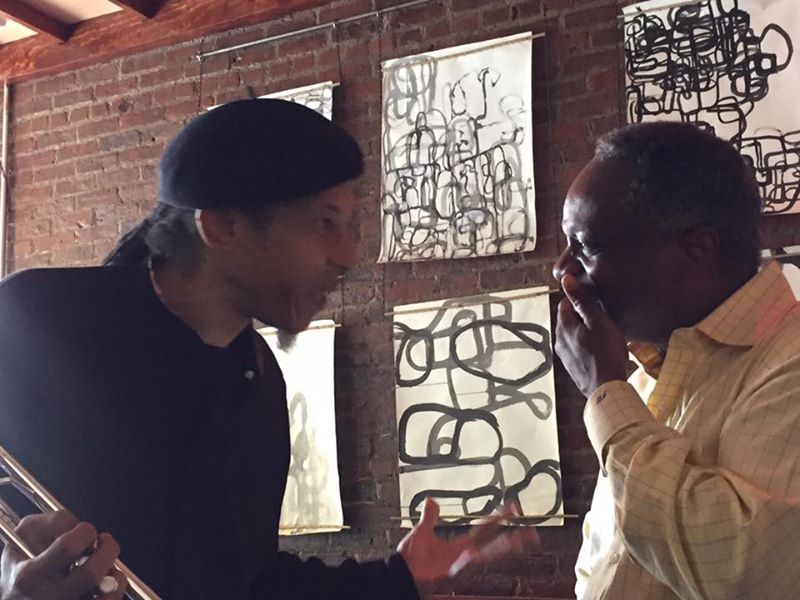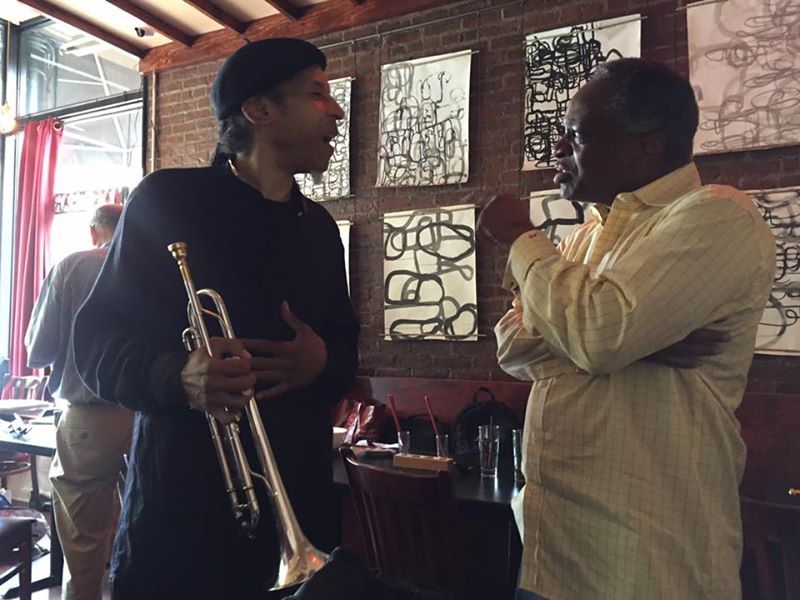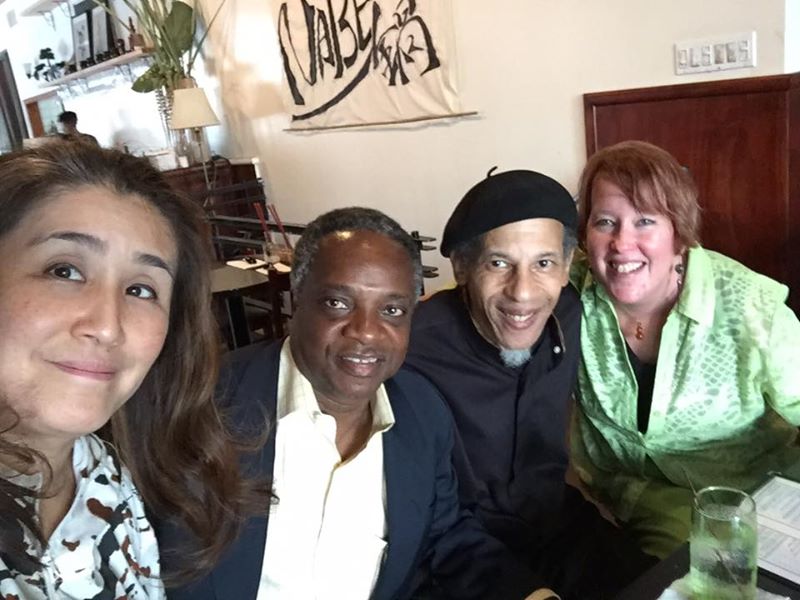 Nabuko Jazz, James Zollar, Nathan Breedlove and his friend Margaret Michniewicz.
Nathan and Margaret Grimes at the Vision Festival. Dear friends for over twenty years..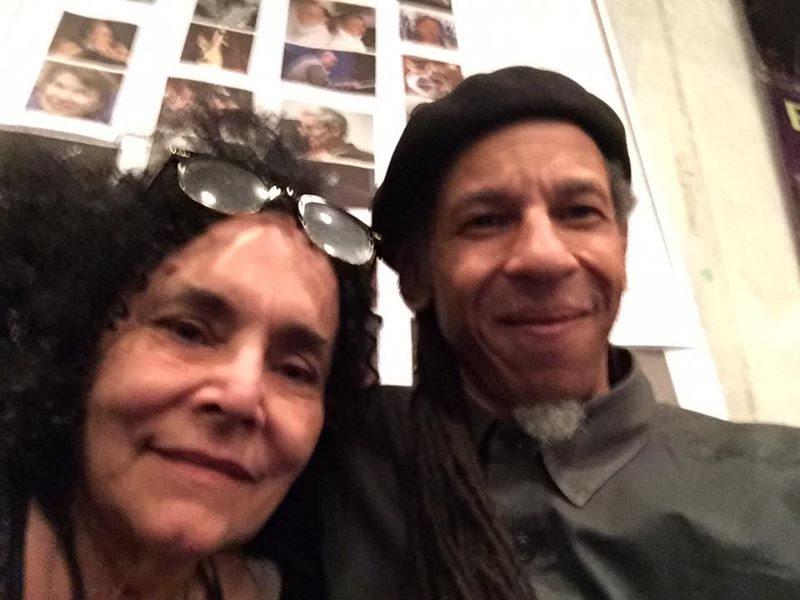 ---
After traversing the lower eastside looking for a good spot to enjoy a nice
meal. I found nothing but chi-chi joints and bars with 30 dollar entries
for farm raised salmon. Absolutely ridiculous, so I ventured up this old
spot introduced to him by Evelyn Blakey. We used to eat here, a lot..
>Jayson Nugent – Lower East Hampton
Friday, June 10, 2016 at 4:39pm PDT
>Lloyd Haber – There used to be music in the streets.. Now, nothing
Friday, June 10, 2016 at 5:26pm PDT
>Tim Blucher – Sunshine in New York…..nice
Friday, June 10, 2016 at 7:31pm PDT
>Phyllis C Yasutake – My old neighborhood in Seattle is COMPLETELY gentrified. I just hold on to the memories
Friday, June 10, 2016 at 8:29pm PDT
>Baba Andrew Lamb – Yeah Brother !
Friday, June 10, 2016 at 8:37pm PDT
>Mra Oma – AS TIME GOES BY!!!!
Friday, June 10, 2016 at 9:25pm PDT
>Mindy Hall ThompsonYa know, I find the same type of thing here. It sure ain't the same no spirit no vibe SO much
changed even the place I went to quite often. SAD !!!
Friday, June 10, 2016 at 9:44pm PDT
>Nathan Breedlove – amen. Like invasion of the body snatchers..
Friday, June 10, 2016 at 11:17pm PDT
>Nathan Breedlove – a nationwide epidemic. We need to tax those money-full and soul-less zombies back to wherever
they came from..
Friday, June 10, 2016 at 11:20pm PDT
>BJ Tween – It's absolutely true, lower Manhattan is depressing. Brooklyn is depressing, even parts of Queens, Astoria,
Flushing, etc are depressing. The Bronx still has it, but they're planning luxury condos at Hunts Point, so it won't last
for long.
Saturday, June 11, 2016 at 7:09am PDT
>DIane Steinberg Lewis – Everything is changing..You can't hear good jazz in Las Vegas hardly snywhere. There used
to be lounges to hear great music…Gone…All over CA…no one wants to pay…and there's not many places to play
anyway. There were supper clubs up and down Ventura Blvd…no more!
Saturday, June 11, 2016 at 7:15am PDT
>Marlene Damon – I moved from NY years ago and can't imagine it minus the lower east side! Sad!?
Saturday, June 11, 2016 at 10:39am PDT
>Nathan Breedlove – now for some of us still in the struggle, they don't want to pay for flights for the
whole band. Turning quintets into quartets and quartets into trio's. Quite a daunting challenge but I'm
dismantling the bricks one by one..I desperately need management, which is the main reason I'm here..
Saturday, June 11, 2016 at 10:50am PDT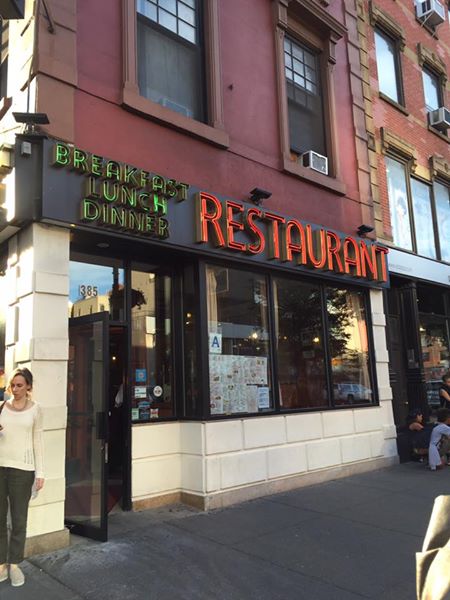 Nathan Breedlove and Matthew Shipp – after the concert.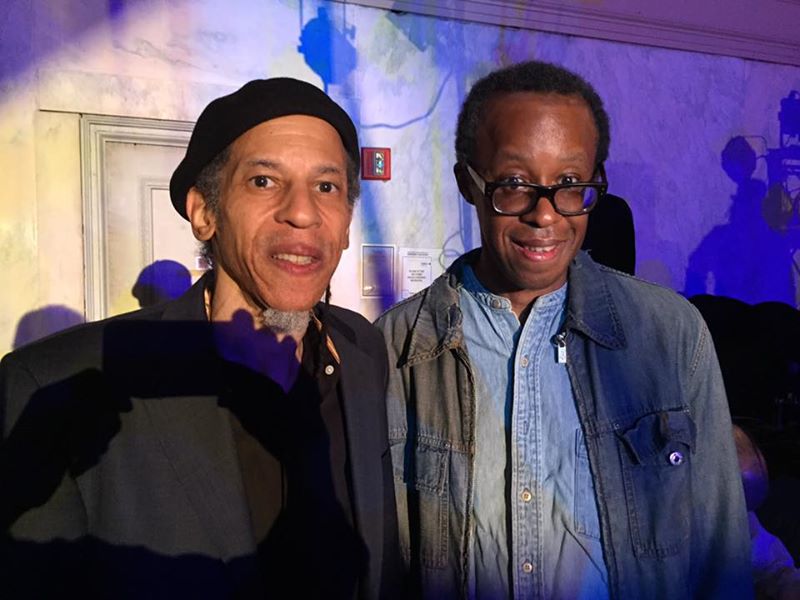 Nathan and Ras Moshe Burnett – at the Vision Festival

Nathan at the LIRR – stress of the night..waiting on the LIRR.
Friday, June 10, 2016 at 4:07am PDT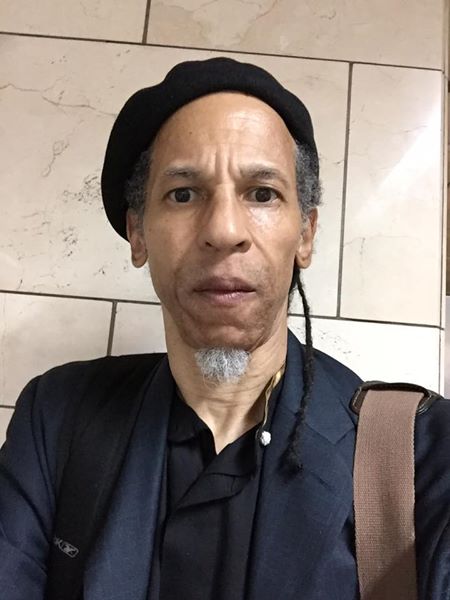 Nathan and Jemeel Moondoc – hanging in Washington Square Park before the festival begins.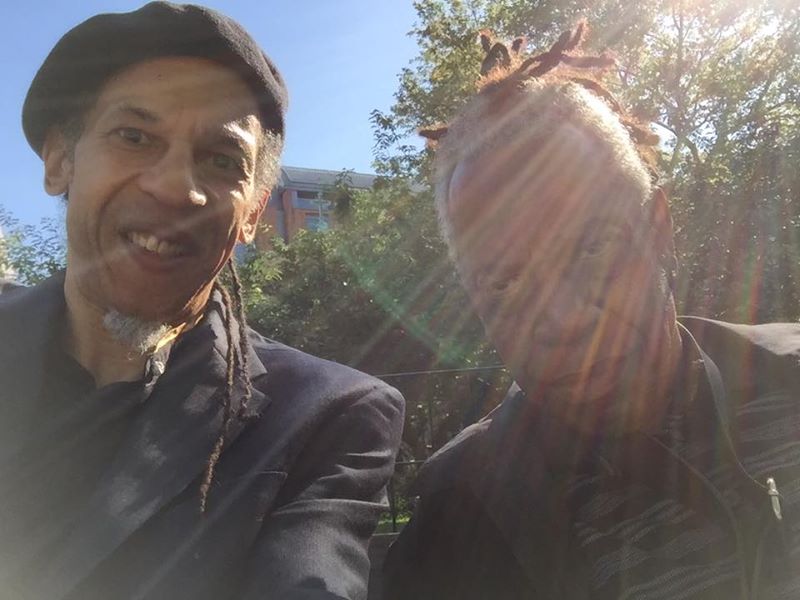 My room with a view, in Little Neck at Paul and Jennifer's house.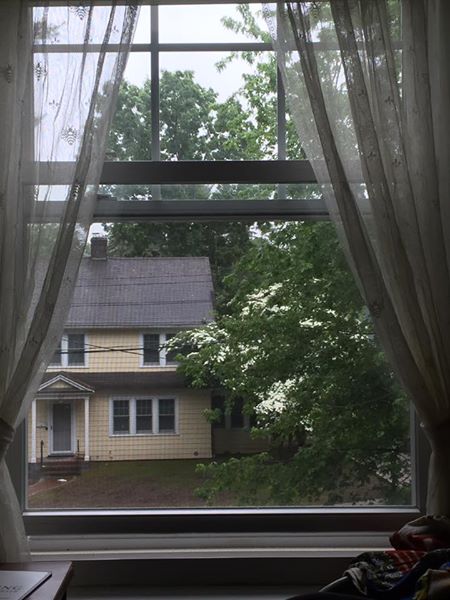 Arrival in New York – Tuesday, June 7th 2016
---
From the New York Times music listings for this upcoming week. Nathan Breedlove is a member of Jemeel Moondoc's Cosmic Nicklodean Quintet and peforms at 8pm on June 9th.
★ Vision Festival 21 (Tuesday through June 12) This annual affair, the country's leading summit meeting of avant-garde jazz, rumbles into its 21st season with a tribute to the bassist Henry Grimes, whose dramatic rediscovery and comeback happened in part on a Vision Festival stage. On Tuesday he'll perform with admirers including the pianist Geri Allen, the guitarist Marc Ribot and the drummer Andrew Cyrille, in several different groups. Wednesday's program will include the vocalist, multi-instrumentalist and composer Jen Shyu, along with the Sun Ra Arkestra and a trio led by the pianist Connie Crothers. And the lineup on Thursday includes Cosmic Nickelodeon, a group led by the alto saxophonist Jemeel Moondoc, with the pianist Matthew Shipp and others. At Judson Memorial Church, 55 Washington Square South, artsforart.org. (Chinen)
---
---
Nathan Breedlove and The nu Trio's CD Release Party at the Royal Room in Seattle was a smashing success! More videos on the video page..
---
___________________________________________________________________________________________
 Blessed journey to my brethren King Bravo and Lord Tanamo, both closely associated with the Skatalites. Tanamo was a founding member.
___________________________________________________________________________________________
---
Hadley Caliman and I were closest of friends. When I was in NYC Hadley came out east to visit a few times. One of those excursions we even shared a bed together(feet to face) at Evelyn Blakey's crib. The last time we hung together, I had rented a room in Brooklyn for a month so that we could record. That's when we recorded together for the last time with John Hicks, Curtis Lundy and Nasheet Waits(unreleased). On the last trip Hadley related to me his entire life story.
About his day(s) picking cotton with his mother in Idabel and a funny story about how his mother ended one of her 'relationships'. The man was sleeping and wouldn't get up so she instructed Hadley and the other kids to each grab an arm and his legs. She calmly went to the fireplace and grabbed one of those old fashioned irons that you heated up in the fire, told the children to hold him, and boinked him(Hadley's word) on the head with it. The pointed end. End of relationship…and then the story about how his father came from LA and kidnapped him. His mother came from Oklahoma and kidnapped him back! Or the story about his first amorous relationship as a kid, with Stymie's little sister…and he got caught. And his first real relationship with a woman…there were both strung out and she suggested that he break into this joint and steal some checks, which he did. They hurriedly left LA and rode a bus to Ohio where her folks were. She was the niece of Count Basie and her father was a lieutenant or something in the police department. When he found out his daughter was involved in a crime and was strung out too, he gave Hadley two choices. Either go back to LA or stay there and deal with him. After arriving back in Cali, Hadley was in a big room with a bunch of convicts being sentenced. Dexter was in there too. The judge said he was going to send some of them to this country club like prison and the rest to San Quentin. Hadley said when the judge got to him, he was the only one sent to San Quentin, a most notorious prison.
Last story..Hadley was hanging out one day when he was approached by two cats, one of them blind about scoring some 'H' for them. Hadley said sure, and took them to the place, handed his saxophone to the blind guy and went in the joint to cop. Hadley, being notoriously greedy, tried out the package and nodded out. When he woke up and ran out doors, the two guys were gone…with his saxophone! Upon reaching home, Hadley walks in the door and the first thing his aunt says is: boy, where's your saxophone? Hadley: some blind guy took it. Auntie: well…this sounds like a job for the police, a proceeds to call them. Well…the blind guy was only visiting and when he reach Seattle was arrested for stealing a saxophone. The blind guy…Ray Charles…and then the story of Hadley in jail with Miles Davis and Art Blakey when they got busted. Hadley was already in there…love..love…
This interview was conducted a few months before Hadley's passing. Reggie Goings conducted the interview and Paul Toliver recorded it.
---
My 1996 Skatalite interview with Terri Gross at NPR, is now back online again.

Jazz Trumpeter Nathan Breedlove Of The Jamaican Group The Skatalites
The Skatalites got their start in the 1960s and are credited with creating the music known as "ska." Breedlove is an American musician who
---
Nica Rothschild and Thelonious Monk at New York's Five Spot jazz club in 1964.
theguardian.com

|

By Richard Williams – Photograph: Ben Martin/Getty Images 
When Kathleen Annie Pannonica Rothschild, wife of Baron Jules de Koenigswarter, discovered that she loved jazz musicians, it changed her life – and theirs. She paid their rent, redeemed their instruments from pawn shops, bought their groceries, ferried them to gigs in her silver Bentley, and invited them to share her home when times were tough, which was often. "I could see that an awful lot of help was needed," she once said. "I couldn't just stand there and watch."
In the face of her family's disapproval, she provided support to musicians both prominent – among them Charlie Parker, Sonny Rollins, Charles Mingus and Art Blakey – and obscure. The one with whom her name became inextricably linked, however, was Thelonious Monk. She fell in love with the music of the high priest of bebop in 1952, when she heard a recording of his classic composition Round Midnight, and two years later – when he was 34 and she was 40 – they began a relationship whose essence continues to defy analysis, and which ended only with his death.
Nica, as the musicians knew her, was born in London in 1913, the youngest of the four children of the banker and entomologist Charles Rothschild. He named her, she said, after a rare butterfly that he had identified on a visit to the family estate of his Hungarian wife. In The Jazz Baroness, a new 75-minute documentary made by Nica's great-niece Hannah Rothschild, we learn that the Pannonica is in fact a moth – "with yellow wings that look as if they've been dipped in Chateau Lafite," Rothschild notes. Nica's father, who suffered from depression, committed suicide when she was 12 and about to embark on an adolescence that to a Rothschild girl could only represent, as she would write, "a waiting room for marriage and motherhood".
A talented artist, at 18 she was studying art in Munich. In her early 20s, she learnt to fly, and in 1935 married Jules, a fellow aviator. They lived in a chateau in north-west France, where Nica gave birth to two children, Patrick and Janka. The outbreak of the second world war prompted the baron to head for Africa, where he planned to join Charles de Gaulle's Free French army. Nica left their children with friends in New York and joined her husband, serving as a cipher agent in Ghana and the Congo, and later in north Africa, Italy and France.
When the war ended, the baron became a diplomat, first in Norway then in Mexico. They had three more children – Berit, Shaun and Kari – but, her granddaughter tells us, "Nica had trouble adapting to the demands of life as an ambassador's wife", and in 1952 the couple separated. Nica moved to New York; in 1953, Jules became France's ambassador to the US and Canada.
Three years later, divorce proceedings were instigated after Charlie Parker died in her apartment at the Hotel Stanhope on 5th Avenue. The great bebop saxophonist had stopped by en route to a gig in Boston, but began to cough blood. A doctor advised rest, and for Nica there was only one solution: he should stay put. Three days later, while they were watching a variety show on TV, he half-rose from his chair, slumped back, and died. Nica's family were appalled by the screeching tabloid headline: "Bop king dies in heiress flat."
Jules was given custody of the three youngest children, although Berit and Kari would later spend time living with Nica. She was not, it seems, a negligent mother, but her priorities lay elsewhere, mostly with Monk, who wrote angular, abrupt melodies that were often dissonant but sometimes glowed with a brusque tenderness. A tall, imposing figure, he wore funny hats, spoke little (at least to reporters) and often rose from the piano stool to execute a strange lumbering dance.
He already had a wife, to whom he dedicated Crepuscule with Nellie, the loveliest of his ballads. Somehow Monk, Nellie and Nica formed a ménage whose primary purpose was to sustain the great composer and bandleader's ability to function in the face of problems that would probably be diagnosed today as the consequence of bipolar disorder. "Nellie needed Nica to help her cope with Monk's mental instability," says an interviewee in the film. The question of what Nica needed is rather harder to answer, but she certainly responded to the puzzle of Monk's music. "She got it," the pianist's son, Thelonious Jr, tells Hannah Rothschild. "He loved her for that." The pair became a familiar sight in New York clubs, with her Bentley parked at the kerb outside.
But the spectacle of a white woman consorting with a black man in the 1950s was enough to provoke unpleasant incidents. She was driving Monk and his saxophonist, Charlie Rouse, to a gig in Wilmington, Delaware, when, during a brief stop, a policeman searched the Bentley and found a small amount of marijuana in the boot. Knowing that a conviction for the musicians would mean the loss of the police permits that allowed them to perform in New York's nightclubs, Nica took the rap, spent a night in the cells and received a three-year jail sentence, which was eventually overturned.
A few years later, unusually, she stayed behind in New York when Monk left for gigs in California. His mental problems sometimes brought on severe depression, and it was in San Francisco that, without Nica to intervene, he was confined and subjected to electro-convulsive therapy. "It works," the trumpeter Eddie Henderson, a qualified psychiatrist, says in the film. "They're not depressed again. But they're not the same."
Tired of being invited to move on by hotel managers who did not like the idea of jazz musicians trooping in and out of her apartment, eventually Nica bought a house (a modernist assembly of battleship-grey cubes originally built for the film director Josef von Sternberg) in New Jersey, with a view of the Manhattan skyline across the Hudson river. There she installed the Steinway piano she had bought for Monk, along with her cats – more than 300 of them.
Monk hated the cats, but in 1973 he and Nellie moved in with Nica. His health deteriorating, he emerged for only a handful of appearances, the last of them in 1976. He died in 1982, aged 64. Six years later, Nica, by then 75 years old, did not survive a triple-bypass operation. Her generosity, however, did not die with her. The house, owned by her heirs, has been occupied for the past 20 years by Barry Harris, another pianist and loyal friend.
Her five children are scattered around the world: Patrick deals in mineral fossils from bases in the Philippines and France, Janka lives in Israel, Berit is a printmaker in New York, Shaun is a banker in Paris, and Kari is a landscape painter in Scotland. Their father died in Spain in 1995.
Several years after Nica's death, her letters were discovered among the papers of the pianist Mary Lou Williams, another close friend, along with several of her exquisite abstract paintings. Extracts from the letters, read by Helen Mirren, are heard in the film, including this verdict on her marriage: "My husband hated jazz. He used to break my records when I was late for dinner. I was often late for dinner."
When Rothschild began the project, she was hoping the story of her great-aunt would "show me a different way to live my life", and the film is at times a very personal one, leaving no doubt of the difficulties she experienced in persuading her family to overcome their reluctance to discuss the life of a woman who refused to be deterred by their disapproval. There was no such problem with the musicians, whom Rothschild recently described, introducing a screening in London, as "the most dignified, humane and articulate people I have met in 20 years of making documentaries".
Here, then, is the answer for those wondering why the discography of postwar jazz is studded with a single exotic name, in a catalogue of compositions that includes not just Monk's own Pannonica but, from other pens, Nica's Dream, Nica's Tempo, Nica Steps Out, Blues for Nica and a dozen others. For a generation of jazz musicians, it was a way of repaying their most unlikely patron.
•The Jazz Baroness will be shown on the BBC's Storyville series next year. Three Wishes: An Intimate Look at Jazz Greats, a collection of Nica's Polaroids edited by her granddaughter Nadine de Koenigswarter, is published by Abrams, priced £9.99.
---
Joe Ferry
A new recording that I am involved with, along with Lester 'Ska' Sterling, the last living member of the Skatalites.
Please check the new album by Big Ska Band, "Revival", available now at iTunes.
February 25 at 8:45am ·
The 3,400-year old clay Canaanite figurine found by Ori Greenhut, 7, at Tel Rehov, Israel…
Beautifully preserved Canaanite figurine could be of fertility goddess or depiction of a real woman, say archaeologists.
---
I was a member of the Lionel Hampton Orchestra for 11 months and some change. It looks here(picture below) like Reuben needed to tighten up Gates' toupee a bit. My old boss..we had some special moments. When I auditioned for the band Lionel came up to me afterwards and told me how I reminded him of Clifford Brown. He said he had some old Clifford arrangements in the basement and that Bill Bergerac would dig them out. Man, I got so excited. Dreams of me soloing and playing Clifford's arrangement danced through my head. The truth…I didn't even get to play a real solo for about three long months, just trading 4's on a couple of numbers. The first solo I was given was at a gig at Madison Sq Garden. It was the warm-up number before Gates took the stage. I peeped him checking me out from the side of the stage. Again…no solo's. Finally..the Idaho Jazz festival jam session. All the celebrities are there. Clint Eastwood, John Faddis, etc.. There was a gazillion horn players lined up and chomping at the bit to play, and no piano player…so..I preceded to the piano and did my Aeborsold thing, walking the bass and comping. I had Al Grey shouting encouragement to me. "Show em how to comp, young man! You show them how to COMP!! Well..after a few tunes the bass player and drummer showed up. After another 3 or 4 tunes, Claudio Roditi comes up and tells me, I'll comp you play trumpet. I then played on a minor blues I think it was. Soon after the session ended Rueben, Gate's valet comes up to me all excited and said, "we didn't know you could play like that." Notice..he said we..Next morning at rehearsal Gates tells Charles Stewart the oldest member of the band, "Charles, do we have any of them Clifford Brown charts in the book?" Charles replied, "Gates, we ain't had none of those charts in the book for years." Gates replied and quite adamantly, "Well find me something to feature a trumpet on!" That folks…was my first trumpet feature. Soon after I was fired for going to Japan with another band and being honest with management about having to sub the gig. When I last saw Gates at the airport, he asked Reuben to wheel him up to me(he was in the airport wheelchair). He grabbed my hand and shook it effusively, up and down and told me.."You keep on swingin' Gates, you here me. You keep on swinging!" After I received my letter of 'disengagement' from the organization, I told Evelyn Blakey who I was rooming with, the story. She said, "Baby, you done swung yourself out of a gig…" Love..love…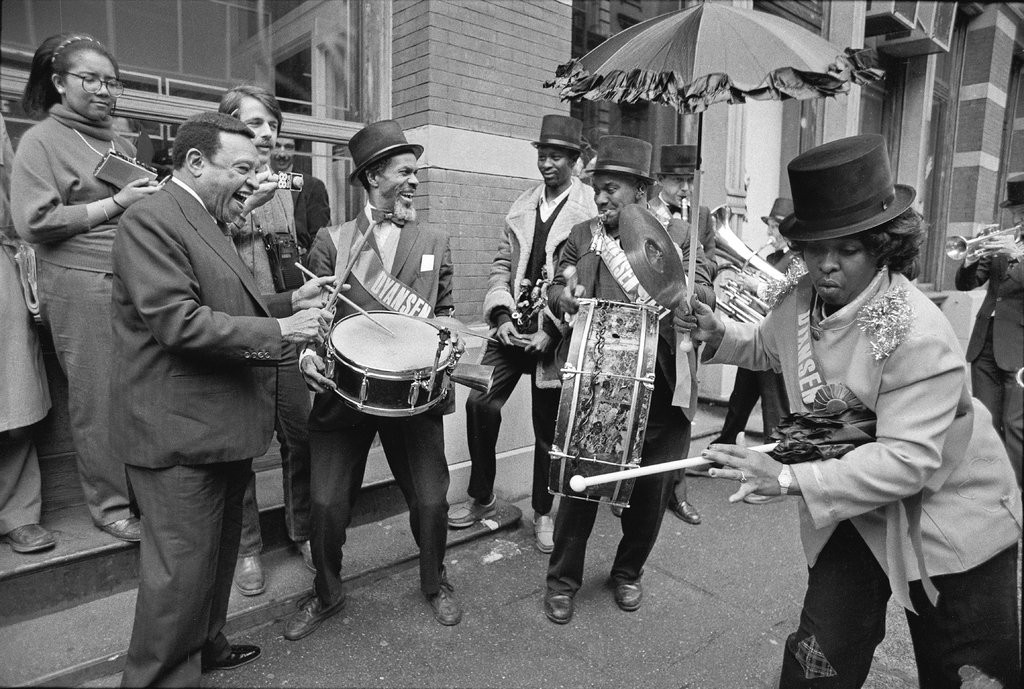 Photo Credit Marilynn K. Yee/The New York Times
Capturing the Lionel Hampton Vibe
Lionel Hampton, the jazz vibraphonist, had a great sense of music as a continuously transforming event: His body of work keeps you on alert in the intensified, energetic moment.
This picture, taken in 1985 by the Times photographer Marilynn K. Yee — but buried in the Times archives until now — perfectly captures Hampton (with drumsticks), midbeat on drums, the instrument of his early career. He had just joined a New Orleans-style parade in New York, celebrating an art opening of jazz-related works at the Dyansen Gallery in SoHo. His smile suggests he's right at home, thrilled by the spontaneous spectacle.
But the march — which started at Columbus Circle, went east to 57th Street and Fifth Avenue, then restarted in SoHo near the gallery after the musicians took a bus downtown — didn't quite fit with our article, which previewed "a new and star-studded jazz festival" at South Street Seaport. So instead of this vibrant image with Hampton, who would be playing on the festival's first night, we ran a portrait of his face.
By that time, he had already come a long, long way. Born in 1908 in Louisville, Ky., he relocated with his mother to Birmingham, Ala., later described by the Rev. Dr. Martin Luther King Jr. as "probably the most thoroughly segregated city in the United States."
He later moved to Kenosha, Wis., and then to Chicago, and in the early days of his professional career he moved to Los Angeles to play drums in jazz bands, including Les Hite's. Louis Armstrong used the Hite band on a trip out West and persuaded Hampton to play vibraphone; Hampton went on to become one of the pre-eminent soloists on the instrument.
During the late 1930s, Hampton was also a star in one of the first high-profile racially integrated bands, Benny Goodman's quartet, alongside Goodman, Teddy Wilson and Gene Krupa. Their records from back then remain powerful: impeccable, organized, propulsive.
But there were private challenges. On tour, Hampton wrote, Goodman had to draw up a contract with promoters to ensure that Hampton and Wilson could stay in the same hotels as the rest of the band; he also had to hire people to escort the black musicians from hotel entrances to their rooms, so that — in Hampton's words — "we wouldn't be exposed to any unpleasantness."
And yet here was Hampton making some of the most generous and confident American music of the 20th century. Some of what he did soon afterward, with his own bands, was rhythm and blues prefiguring rock 'n' roll; "Flying Home," in 1942, with a driving saxophone solo by Illinois Jacquet, became one of the great commercial breakthroughs made by a jazz musician. Hampton became an ambassador, bringing jazz far afield, and played "Flying Home" at Harry S. Truman's presidential inauguration in 1949, in a program with Lena Horne and the operatic soprano Dorothy Maynor.
And as Armstrong did for him, Hampton helped elevate other important musicians in their early years, including Dinah Washington and Quincy Jones. He also lifted others in smaller ways, creating music scholarships at universities and helping to build low-income housing.
All that good will reverberated back to him in ways big and small. At the very least, it meant that a band of jazz marchers in 1985 could rely on him for unannounced percussion. It also meant that 17 years later, he would be the one honored by another New Orleans-style parade held in New York, after his death. Wynton Marsalis and the Gully Low Jazz Band led a crowd of mourners and fans toward Riverside Church, where luminaries gathered for his funeral. The speakers included Illinois Jacquet; the Rev. Calvin O. Butts III; Representative Charles B. Rangel; and the elder George Bush.
"Jazz Festival Is Docking At Seaport For 10 Days" in TimesMachine
— Ben Ratliff
Nathan Breedlove

shared Linda Lee Caliman's photo.
Dexter Gordon, unidentified person, Hadley Caliman
---
time to downshift into a chill idle…no need to tell why…love..love…
the legendary bassist of the Skatalites…the one and only..Lloyd Brevett…with Paul Shaffer at the House of Blues opening in Los Angeles…photo by Jim Marshall..
I've been going through the digital archives for most of the day to select photos for my new website. What a way to get distracted, and now the whole day is gone. Time to enter the woodshed. This is a hip hop/jazz project that I was involved with briefly in the early nineties with producer, Floyd Fisher. Floyd wrote it for Miles Davis but his people turned it down. He decided to do it as a tribute to Miles and auditioned eight trumpet players before he got to me. He said all the other cats just played right over his music and that I was the first one to actually listen(horn players have a tendency to do that..haha). It made the major label rounds with great response, but never made it all the way through the label hurdles, as this was a little bit before the acid jazz scene really took off..
*Don Cheadle said his passion project about Miles Davis wouldn't have gotten off the ground without crowdfunding and a white co-star. The 51-year-old actor produced,…
eurweb.com
---
a flower is a lovesome thing…
Fifteen million years ago, it landed in the sticky sap of a tree that is now extinct, in a kind of forest that no longer exists on Earth.
newyorker.com
|
By Nicola Twilley
---
a most fascinating find…wonder what the current status is…very mysterious indeed…
This is the account of the discovery of a skull that has the potential to change what we know about human evolution, and a suppression and cover-up which followed.   In 1959, in an area call
---
going through old archives to select photos for my website and I found this one of my mother and one of her friends. In the early 50's in Tacoma, Wa. My mother went to Stadium H.S. until I came along and interrupted the program…
---
the sand clock…a close friend it is..reminds me to take breaks..
as intended by the cosmic designers…doesn't always work as expected though…the aim is oneness with the one…you dig…
Belief in moral-watching, all-knowing, punitive gods might have helped human societies grow far beyond small, close-knit groups, a new study shows. Researchers who ran…
latimes.com
|
By Los Angeles Times
art for the day..the joyous spirit of the arts…
                                                                                                                                                                                                                                                                       I Require Art with Mohamed Gharieb.
Lyonel Feininger (American, worked in Germany; Expressionism; 1871–1956): Carnival in Arcueil, 1911. Oil on canvas, 41-1/4 x 37-3/4 inches (104.8 x 95.9 cm).
Scientists say it could have been a matter of culture.
huffingtonpost.com
|
By David Freeman
L'indimenticabile interpretazione di Maria Callas live al Teatro alla Scala e la
successiva incisione dell'aria "Addio del passato" da La Traviata di Giusepp…
The Biographical Encyclopedia of Jazz
edited by Leonard Feather, Ira Gitler…
one should always take a little time to appreciate beauty through art, music and dance..smell the roses…
---
My high school jazz band, The Hillcrest Norsemen. Winners of the
1974 National H.S. Jazz band competition  in Mobile, Alabama. Led by
prolific band leader Jim Terry, the band also toured Romania and placed
2nd in Montreux, Switzerland International competition two years before.
Nathan Breedlove with Jim Spake and 8 others.
Distant memory recalled, thanks to Facebook..Sony Studio..me and producer
Trevor Wyatt from Island Records…finishing up the final mix for Ball of Fire.
 Bill Smith, Nathan Breedlove and Trevor Wyatt(Island Records) at Sony Studio.
so many variables and with such a delicate balance..we are such novices when it comes to understanding our planet and her mechanisms designed to maintain climate stability, ensuring habitable zones for our continued survival ..
An expansion of Europe's forests towards dark green conifers has stoked global warming, according to a study on Thursday at odds with a widespread view that…
in.reuters.com
|
By By Alister Doyle
The global honeybee trade is driving a pandemic that threatens hives and wild bees, according to a study.
========================================================================================
---
prehistory…the unraveling of..all roots lead to Sumer…12,ooo year old artifact.
 In bug news…
Being responsible for providing their food straight from nature, the San tribes, also called Bushmen, have quickly found ways to evolve their hunting methods. It is…
=====================================================================================
my fascination with prehistory…very informative dig…
Bone collections found in a 9,000-year old village in Shkārat Msaied suggest the dead were dismembered and moved around a lot – maybe to make sure they stayed dead.
—
my paternal bloodline the Breedlove's, my father and his sisters(only missing John youngest)…all embarked upon their Paradise journey, but always remembered…
————————————————————————————————————-
---
in bug news…
dance of the mantis…
—
good morning , fellow earthlings….Prehistory, was a brutal and savage time. Primitive man never smiled, humor coming much later with the advent of modern man. Archaeologist who still hold to the notion of an idyllic golden pastoral past should take note. Man is descended from fighting animals. Our far distant progenitors once fought each other down to the last one hundred of the species, according to the spirits…
The nearly 6,000-year-old pit was found near the village of Bergheim, which sits near the border with Germany. "The discovery of Bergheim is the witness of a very violent…
news.yahoo.com
|
By Tia Ghose
Beautiful gig tonight…we played a lot of uptempo numbers…must be something in the air since I hear that cats in Seattle don't play a lot of uptempo numbers. As for me..I love to fly, to double-up the double, you dig…It was wonderful seeing so many loving friends including fellow trumpeter Soda Pop who was there along with vocalist/trumpeter and friend of many years, Reggie Goings. He videoed the last set so maybe he will bless us with a tune upload. Thanks to my brethren, Phil Sparks(b) and Jamael Anthony Nance(d) for making tonight such a pleasure..love..love…
January 27 at 2:12pm ·••
Same old story…guess I'm not missing a whole lot by not being on the local scene that much. The desire to play, must be matched by the desire to be paid. They will always find some musician to play a gig for little or nothing..as for me the hermit, I enjoy playing with old friends so I too occasionally succumb, but with my own music..that is another story…
A newly released report says while the Seattle music industry generates $1.6 billion and employs over 16,000, most musicians can't even make a living wage.  mynorthwest.com
I've been often described as the 'under recorded' Breedlove. I won't go into the reasons but I do have three master recordings of my music in the basement. Maybe someday they will see the light of day. Here is a tune that I recorded with Hadley Caliman, John Hicks, Curtis Lundy and Nasheet Waits, entitled 'Don't Smash the Sausages'. This is tune dedicated to Hadley Caliman and I think only three people know the story behind it. This happens to be one of John Hicks very last recordings. Anyways…this track is but a rough mix and I offer it to you with love, my friends..love..love….
This is an unreleased recording of the Nathan Breedlove Quintet featuring Hadley Caliman (s), John Hicks (p), Curtis Lundy (b) and Nasheet Waits (d). Recorded with Hadley Caliman, John Hicks, Curtis Lundy and Nasheet Waits, entitled 'Don't Smash the Sausages'. This tune is dedicated to Hadley Caliman and I think only three people know the story behind it. This happens to be one of John Hicks very last recordings. Anyways…this track is but a rough mix, my friends..love..love….